Mission: Impossible's Christopher McQuarrie Has A Cheeky Response While Explaining One Brutal Stunt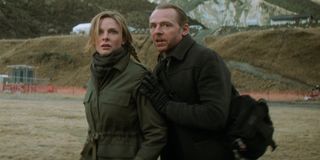 Even after Tom Cruise's impassioned rant about health and safety protocols last year, Mission: Impossible 7's production has shut down filming again after another COVID incident on set. The action-packed genre-pushing franchise has hit a couple of setbacks, but this sequel still remains one of the most anticipated films in the movie world. The stunts and set pieces from the Mission: Impossible franchise get bigger and better every movie, and Cruise has no problem being his own stunt man, even if they can go wrong. Director Christopher McQuarrie continues to set the standard and has recently had a cheeky response while explaining one particularly brutal stunt.
The Mission: Impossible franchise is famous for its insane stunts that leave the audience wondering how they are even possible. Tom Cruise has scaled buildings, performed a HALO jump, and generally has done everything he can to put himself in harm's way. The rest of the cast isn't left out and has to perform their own daring stunts, one of which involved Simon Pegg being hanged and dropped straight on his face. Christopher McQuarrie had a funny response to the stunt on Twitter:
The stunt in question features Simon Pegg being cut down by Rebeccas Ferguson from being hanged and landing super hard on the ground. The tweet asks, "How do you do that without breaking your face?" Christopher McQuarrie replies, saying, "You save it for the last day of shooting." It's hard to tell if it was actually Simon Pegg smashing his face on the ground, but whether it was him or not, it looks super painful.
Simon Pegg's character Benji has basically gone from pencil pusher to super spy in his own right, getting his hands dirty in the field and putting himself in harm's way. With every new installment of Mission: Impossible, Simon Pegg's Benji gets more responsibility and isn't afraid to let Tom Cruise know it. It will be fun to see what Benji and Ethan Hunt get up to in Mission: Impossible 7.
The cast has provided some much-needed updates for fans while they wait for Mission: Impossible 7 to finally release. Rebecca Ferguson won't stop sharing behind-the-scenes photos, and Simon Pegg made a hilarious video showing his daily routine while filming in London. Hopefully, no more setbacks hit production, and we get to see Mission: Impossible 7 in theaters sooner than later.
It doesn't take much for Mission: Impossible fans to get excited. A simple video of Tom Cruise doing his signature run through fog is enough to get diehards going. Mission: Impossible 7 will surely push the boundaries of what's possible in action movies once again, we just have to be patient and marvel at the dangerous stunts the films have given us over the years.
Your Daily Blend of Entertainment News
Movie and TV obsessive. A good Heist movie is the way to my heart. Enjoyer of everything from Marvel Movies to Rom-coms.