As Jurassic World Crossover Hype Builds, Tyrese Gibson Wants Fast And Furious To Merge With Another Major Franchise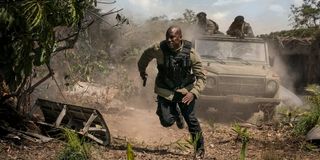 Fast and Furious 9 is finally in theaters and has already broken a pandemic box office record, putting it on course for an impressive opening weekend. F9 is not only important for the Fast franchise: it's important for the future of movie theaters as a whole, proving that the cinema is still alive and well after such a turbulent year due to the pandemic. F9 pushes the boundaries of what's possible with the powers of muscle cars and family and in the process, sends Tyrese Gibson into space in a sequence that director Justin Lin wanted to shoot practically. Gibson is ready to go even further, though, and, as the Jurassic World crossover hype builds, the Fast actor wants Fast and Furious to merge with another major franchise.
With The Fast and Furious franchise upping the ante with each successive film, it's only going to get harder to bring in fresh elements to the film series. The family has gone from street racing car thieves to pseudo superheroes over 20 years, morphing into a unit that would honestly give The Avengers problems. Lately, ideas for a Jurassic World crossover have been floating around, but Tyrese Gibson thinks there is another franchise the Fast movies should merge with first, telling Comicbook.com:
Tyrese Gibson says he doesn't know anything about a possible Jurassic World crossover but, in his opinion, Transformers would be the better fit for a merger. The actor makes the obvious point of saying cars that turn into robots are a more logical transition than dinosaurs right off the back; they can come afterward.
Tyrese Gibson starred in the original run of Transformers films, so he is familiar with the franchise. However, the Transformers franchise sits at Paramount, and The Fast and Furious franchise would more than likely crossover with fellow Universal franchises like Jurassic World. The idea of Dominic Toretto and his crew meeting dinosaurs may sound wild, but even Jurassic director Colin Trevorrow seems excited about the possibilities.
While promoting F9, Tyrese Gibson has gotten candid about how hard it's been to continue working on the franchise without Paul Walker. Thankfully, the actor's legacy is fully honored in F9 and, at the end of the movie, there's a cool treat for fans. F9's ending sets up the final two chapters of the Fast Saga, and the end-credits scene just adds more excitement and speculation as to what's next for the Toretto family.
Hopefully, we can see Dwayne Johnson and Jason Statham's return in the 10th installment in the Fast and Furious franchise. But while we wait to see what happens in the final two Fast movies, we can also speculate as to whether or not the franchise will crossover with any other big-name properties, even those belonging to other studios. It's hard to deny how interesting it would be to see Vin Diesel's Dominic Toretto stand alongside a dinosaur or Optimus Prime.
Your Daily Blend of Entertainment News
Movie and TV obsessive. A good Heist movie is the way to my heart. Enjoyer of everything from Marvel Movies to Rom-coms.