As F9 Approaches, Tyrese Gibson Gets Candid About How Hard It's Been To Continue On Without Paul Walker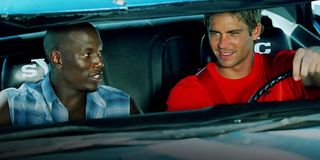 Fast & Furious 9 is gearing up for its domestic release and has already pushed past worldwide milestones, and franchise stars Vin Diesel and Tyrese Gibson couldn't be happier. This was evidenced by them sending out a message, thanking fans around the world for their support. F9 will raise the stakes once again and, judging by the trailers, there will be even more cool stunts in this long-awaited installment. But as the film approaches, Gibson is also getting candid about how hard it's been to continue on without late co-star Paul Walker.
After Paul Walker's passing in 2013, the Fast franchise gave the actor and his character a proper send-off in an emotional tribute in 2015's Furious 7. Ultimately, he franchise has managed to keeping moving without Walker, who had been a central figure since the franchise's beginnings. Tyrese Gibson has never shied away from speaking about the void that Walker left and, while speaking with EW, he talked about the late performer and his feelings towards the franchise's seventh installment, saying:
Tyrese Gibson says that Furious 7 was an incredibly tough experience. While he likely glad that the film was successful, the actor seems to have more sad memories than good ones because Paul Walker's sudden death. This could be especially hard for him when considering that he and Walker were already having their typical fun on that set before his passing. Gibson concludes by saying that once Furious 7 came out, it was very painful to watch, and it's not a film he has revisited since.
Tyrese Gibson and Paul Walker both starred in the second movie in the fast franchise, 2 Fast 2 Furious. Tyrese played Roman Pearce, an old friend of Paul Walker's Brian O'Conner. The John Singleton-directed sequel was a showcase for the duo and provided some of the most fun moments in the entire franchise. This was mainly due to the on-screen chemistry Gibson and Walker had.
Recently, Jordana Brewster also commented on Paul Walker's continued legacy in F9 and shared a story about how Walker helped her through a major stunt. Paul Walker's brother, who helped create the tribute and send-off in Furious 7, has also acknowledged his brother's continued impact on the franchise. With this,Tyrese Gibson and the rest of the Fast family are definitely keeping Walker's legacy alive in more ways than one.
F9 hits theaters on June 25th and promises to do everything the series does best. It'll be interesting to see how the story will pay tribute to Paul Walker's character in the new film, but, however it chooses to reference his Brian O'Conner, it's sure to be memorable and respectful.
Your Daily Blend of Entertainment News
Movie and TV obsessive. A good Heist movie is the way to my heart. Enjoyer of everything from Marvel Movies to Rom-coms.