Samuel L. Jackson's Been Acting For Nearly 50 Years. Now, He's Finally Getting An Oscar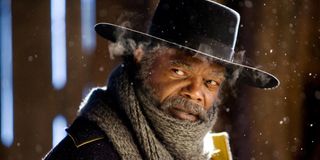 No matter what way you look at it, Samuel L. Jackson has had an amazing career. In the 50 years that he's been acting in Hollywood, he's starred in some of the most unforgettable films of all time. Despite securing an unimpeachable legacy as an actor, he has yet to win an Academy Award for any of his performances (seriously). Fortunately, that oversight will finally be remedied next year.
The Academy of Motion Picture Arts and Sciences recently announced the recipients of its 2022 Honorary Awards: Elaine May, Liv Ullmann and Samuel L. Jackson. They will be presented at the 12th Governor's Ball in January 2022. Actor and activist Danny Glover will also be recognized at that time with the Academy's Jean Hersholt Humanitarian Award.
Given Samuel L. Jackson's significant contributions to Hollywood, this award may seem long overdue. He first began acting professionally in a 1976 episode of the TV series Movin' On. His film debut was as Gang Member no. 2 in 1981's Ragtime. In the five decades since he began his career, he has amassed more than 100 film credits.
Despite being one of the most recognizable actors of his generation, to date, Samuel L. Jackson has only been recognized once by the Academy Awards. In 1994, he was nominated for Best Supporting Actor for his performance in Pulp Fiction. Over the last five decades, Samuel L. Jackson has turned in multiple Oscar-worthy performances, including turns in A Time To Kill, Jackie Brown, and The Hateful Eight. He has earned plenty of other accolades over the years, including four Golden Globe nominations and a BAFTA win.
You have to look deeper at Samuel L. Jackson's career, though, to truly gauge his impact. The Academy's notes on his Honorary Award state that he is "a cultural icon whose dynamic work has resonated across genres and generations and audiences worldwide."
That assessment is not an exaggeration. While he remains humble about his legacy, few would argue against the idea that Samuel L. Jackson is a living legend. He's responsible for some of the best one-liners in Hollywood history. He's one of the few actors who can leave indelible marks in multiple iconic franchises. He's worked with many of the most revered directors in modern cinema. And he got us to watch Snakes On a Plane.
While he's probably best known these days for his turns as Mace Windu in Star Wars and Nick Fury in the MCU, Samuel L. Jackson is still branching out despite being a Hollywood veteran. He recently impressed fans and critics with his performance in The Hitman's Wife's Bodyguard.
This all goes to show that he's more than earned an honorary award that recognizes his long-term contributions to the craft of acting. When he collects the statue in 2022, Samuel L. Jackson will join an elite group of actors and filmmakers, including recent recipients Hayao Miyazaki, Spike Lee, Cicely Tyson and David Lynch.
Your Daily Blend of Entertainment News