8 Samuel L. Jackson Role You May Have Forgotten About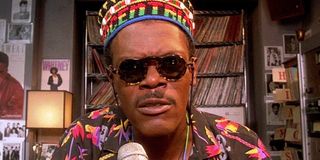 Samuel L. Jackson is one of the most bankable and recognizable actors working today. From his part as Nick Fury in the Marvel Universe to cult classics like Pulp Fiction, Jackson has built a long, varied list of roles, characters, and films. It's hard to even imagine a time where Samuel L. Jackson was an unknown actor.
However, every actor has a beginning, and Samuel L. Jackson's early roles are just as interesting as his career profile as a whole. He appeared in some films and TV shows that have stood the test of time or have been very influential in film history. Additionally, Samuel L. Jackson has such a large filmography that it's easy to forget some of his past roles. Let's look at some of Samuel L. Jackson's early acting roles in popular TV shows and movies.
Mister Senor Love Daddy - Do The Right Thing
Samuel L. Jackson had already been acting on the stage, and in films and television, when he landed the role of Senor Love Daddy in Do the Right Thing. However, most of his roles had been minor ones. Do the Right Thing was his second collaboration with Spike Lee. The two men worked together a year prior on School Daze.
They would later also work together on Jungle Fever and Mo 'Better Blues. Senor Love Daddy is a minor character in Do the Right Thing, but he often acts as a narrator, adds commentary, and offers the final lines of the film. He sees everything and understands the neighborhood better than most. Do the Right Thing is such a complex film that, unless you've seen it recently, you might forget all the future stars who have minor roles in it, including Jackson, Rosie Perez, and Martin Lawrence
Hold-Up Man - Coming To America
Samuel L. Jackson had only appeared in a few movies before his Coming to America role. It's a blink and you could miss it moment because Jackson only appears in one scene. He's a man that comes to rob McDowell's, the burger joint where Prince Akeem (Eddie Murphy), Semmi (Arsenio Hall), and Maurice (Louie Anderson) work.
Samuel L. Jackson's robber doesn't get too far, as Akeem and Semmi foil his plan. It's really funny to see Jackson in a role like this, and then compare it to how far he's come as an actor. It's also one of those moments that if you haven't seen the movie in a while, or never seen it, you'll go "oh wow that's Samuel L. Jackson!" when you get to the scene.
Leeds/Local Yokel - School Daze
School Daze is Spike Lee's second full-length feature film and his first project involving Samuel L. Jackson. This was only Jackson's fifth film, and he appeared in School Daze the same year that he appeared in Coming to America. Jackson's appearance in School Daze is very brief. He plays a local man who confronts some of the Mission College students about how they take over his town and think they're better because they have a college education.
It's an interesting scene that also showcases Jackson's acting future. He gives off a no-nonsense attitude that he'll become famous for in future roles.
Stacks Edwards - Goodfellas
By the time Samuel L. Jackson appeared in Goodfellas, he had appeared in a series of films and started to build momentum in his acting career. Most of his projects had been in Spike Lee movies and a few blockbuster successes like Coming to America and The Exorcist III. Jackson is barely in Goodfellas, so it's easy to forget his role.
He plays a real-life figure, Stacks Edwards. Stacks was a musician and criminal who became associated with Jimmy Burke (Robert De Niro) and Paul Vario/Cicero (Paul Sorvino)'s crews. His character is murdered after he shows incompetency by leaving a getaway truck unattended and the cops find it. His fingerprints are all over it, so it makes him a liability, and someone whom the mafia needs to kill.
Dream Blind Man - The Exorcist III
Samuel L. Jackson was still in the early stages of his career when he appeared in The Exorcist III. He had been acting for several years at this time and appeared in over 10 movies, but he hadn't become the superstar we associate him with now. Therefore, he was still getting roles that were brief, and The Exorcist III was no exception.
He had a very small appearance in a dream sequence. He's one of the people quickly shown, and plays a blind man who yells out. His scene only lasts a few minutes, so most people wouldn't remember him being in this movie.
Defense Attorney Louis Tagger - Law & Order
Samuel L. Jackson had appeared in a few other TV shows and some TV movies before appearing in Law & Order. Many fans may have forgotten that Jackson appeared in an episode, because, again, it was a small part. He played DA Tagger in Law & Order Season 1, Episode 14, "Violence of Summer."
His character entered the show in the final fifteen minutes of the episode and only had a few scenes. He was a DA trying to have a case dismissed on a man accused of rape. This episode also features another future star, the late Philip Seymour Hoffman. Hoffman played one of the teen boys accused of raping a reporter.
Gator Purify - Jungle Fever
Jungle Fever was Samuel L. Jackson's fourth project with Spike Lee. He played a drug-addicted character named Gator. Interestingly, he also appeared in this film opposite another future star, Halle Berry. His role in Jungle Fever also came at a very critical time in Jackson's life, as he was battling his own drug addiction.
He was only a week out of rehab and still detoxing when he got the role in Jungle Fever. His part in this film was much bigger than some of the previous ones mentioned on this list, and it's a very memorable performance, but unless you've watched the film often or watched it very recently, it's easy to forget that Jackson had a critical role in Jungle Fever.
Mr. Jenkins - Ghostwriter
Samuel L. Jackson appeared in the children's series Ghostwriter when his career was still on an upward swing. He was mainly appearing in movies at this time, but had recently done the episode of Law & Order previously mentioned. He appeared in three episodes of the first season of Ghostwriter.
He had a brief role as the father of one of the main characters in the series, Jamal Jenkins (Sheldon Turnipseed). In his three episodes, he only had a few scenes, including the very first one of the show. The focus of Ghostwriter was on the children, so none of the parents, except grandma Cece Jenkins (Marcella Lowery) really got much of a chance to shine.
According to IMDB, Samuel L. Jackson has appeared in over 190 films and TV shows, and his resume continues to grow. He's an actor with talent, longevity, and a dedicated work ethic. It's amazing to see him go from a robber in Coming in America to so many iconic characters like Nick Fury, Mace Windu, Shaft, Mr. Glass, and Jules Winnfield. You can next catch Samuel L. Jackson in Spiral, which is currently expected to be released on May 21, 2021.
Spent most of my life in various parts of Illinois, including attending college in Evanston. I have been a life long lover of pop culture, especially television, turned that passion into writing about all things entertainment related. When I'm not writing about pop culture, I can be found channeling Gordon Ramsay by kicking people out the kitchen.
Your Daily Blend of Entertainment News
Thank you for signing up to CinemaBlend. You will receive a verification email shortly.
There was a problem. Please refresh the page and try again.