Tokyo Drift's Lucas Black Talks Returning To Fast And Furious (Again) And Why F9 Was The Right Time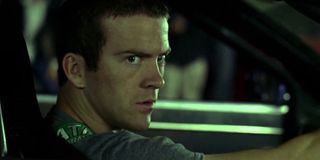 There is a lot for fans of the Fast and Furious franchise to be excited about when it comes to F9, as some intriguing, new characters have come into the fold for the latest installment. More importantly, a few fan-favorite faces are making a long awaited return, including Tokyo Drift's Sean Boswell. Lucas Black is just as excited as fans are to have his character back behind the wheel -- and he's made it clear that a lot of thought went into bringing Sean back at the right time.
Fast and the Furious fans first met Sean Boswell in 2006's low-key awesome Tokyo Drift. The Alabama native had a proclivity for speed, and he found a mentor in another fan favorite character, Han Leu (Sung Kang). While we saw Sean briefly in a Furious 7 flashback, we haven't seen him since. So when fans see Sean back on the big screen in F9, it will be his first appearance in the series in more than five years. That may have been especially confusing for fans, because Lucas Black was originally signed on to play Sean in the seventh through ninth installments of the Fast and Furious franchise.
Bringing Sean back for this latest film was not a decision Justin Lin and Lucas Black came to on a whim. The actor told the Los Angeles Times that he was asked to play Sean in the 2017 chapter, Fate of the Furious -- but he turned it down because he didn't see the character fitting logically into that story. And according to the actor, bringing Sean into F9 made a lot more sense, especially as it pertained to Han:
Lucas Black's desire to keep Sean's story authentic to the character and the series is admirable. Some actors might jump at the chance to book another gig in a popular franchise, but it's clear that the character means more to Black than just a paycheck.
The big question now is, of course, whether or not we can expect to see more of Sean in future Fast and Furious chapters. There's no official word on whether Lucas Black's contract has now been fulfilled, since this was technically the last film he was meant to appear in. Still, it seems like the story is not over for the Tokyo drifting crew, so there may be more room for him to fit in naturally moving forward.
F9 is currently playing in theaters nationwide.
Your Daily Blend of Entertainment News