5 Fast And Furious Spin-offs F9 Has Us Ready For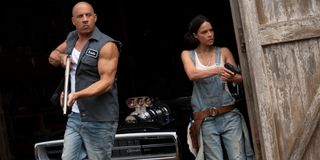 We may be closer to the end of the main portion of the Fast Saga with the release of F9, but that doesn't mean the fun has to stop. As evidenced by Hobbs & Shaw, as well as Vin Diesel himself saying that Dominic Toretto could live on through spin-offs, there's an open road to explore the continuing world of Fast and Furious action. Which leaves one question we're about to try to answer: who or what should these new volumes of Fast lore be about? Here's some suggestions we have on that front:
The Continuing Adventures Of The DSS
At this point in the Fast Saga, the Diplomatic Security Services, or DSS for short, seems to have had its fingers in many of the pies throughout the series. And while the Toretto family's saga could very well end in Fast 10, a spin-off showing us new agents working with old friends feels like a good step forward. Plus, either Kurt Russell's Mr. Nobody or Scott Eastwood's Little Nobody could head this new team, further enforcing the ties to the Fast Saga proper.
Besides the familiar faces that'll undoubtedly pop up in this DSS flavored spin-off, these would be mostly team-based missions that are one-offs at best. Think of this as the Mission: Impossible franchise, but reskinned for the Fast Saga playground. That might not sound too different from the sort of material that F9 has been continuing to work in, but a DSS spin-off wouldn't require watching the original series of films to catch up on all of the sprawling continuity.
Young Jakob Tortetto's Backstory
F9 introduces the world to John Cena's Jakob Toretto and, without any spoilers, there are still some questions that are outstanding about certain pieces of his personal history. While we're probably going to learn more in the two-part finale that is Fast 10, those details will more than likely hew closer to the present day. Which mean the time that Jakob was off the radar in the Fast Saga's chain of events is ripe for untold tales.
Mainly using actor Finn Cole's younger incarnation of Jakob, we can begin to see what the younger Toretto brother did after he drove off following his fateful race with Dom. A bonus point for this scenario is that since Jakob was known to be staying with Buddy (Michael Rooker) for some time after the Toretto family's falling out, we could see some more Rooker action in the Fast Saga. If anyone was built for that sort of thing, it'd have to be Rooker.
The Misadventures of Magdalene Shaw
Hobbs and Shaw and the Fast Saga use Helen Mirren's Magdalene Shaw as a bridge between their worlds, with Queenie coming and going as she pleases. We have a good idea of what her skill-set is as a thief and criminal mastermind, and we now know she can break out of prison without making too much of a fuss. But how did she become such an icon, and where did she learn to drive?
Magdalene Shaw's past misadventures could give Fast fans more of the slick heists that they've been used to, since Fast Five started the franchise down that road so long ago. But on top of delivering thrills, audiences could learn more about the mysterious father of Deckard, Owen, and Hattie Shaw through this breezy trip to the past. Maybe Liam Neeson could fit another action filled adventure into his résumé and bring the Shaw patriarch to life once and for all.
How Leysa Built Her Crew
According to Vin Diesel, the stars have aligned on F9 through some very crucial decisions that were made in the casting department. Not only did he feel that John Cena's hiring was basically confirmed by the spirit of Paul Walker, but bringing Cardi B into the Fast Saga as Dom's friend and associate Leysa is another choice that seems to be working out in the long run. So if Leysa is important enough to bring back in Fast 10, then surely her story needs to be told.
WIth a Dom spin-off on the table, this is another potential direction that Vin Diesel's continuing saga could lead to. The roots for this story have already been laid down, as Cardi B's quick cameo established that Leysa kind of owed Dom for having a pretty fabulous life. What that life entails and how Dom earned that favor, are both questions that need to be answered. Should Cardi B want to continue building her acting credits, all that needs to happen is for the greenlight to be given.
A Mr. Nobody Solo Adventure
Kurt Russell is an action star, full stop. While he may not have made a huge appearance in F9, there's still plenty of room for Mr. Nobody to go on an adventure or two on his own. With a potential DSS spin-off showcasing the fresher agents on the beat, a solo trek for Russell's Fast Saga spy is something that fans would probably lose their minds over. Mr. Nobody could get into and out of tight situations, with huge world-changing stakes on the line, but in smaller more intimate adventures.
Plus, seeing Kurt Russell expanding the Fast world with missions that rely on his equally developed charms and trigger finger would give the world some major throwback vibes to a time where Mr. Russell did this sort of thing more often. If anything, a Mr. Nobody spin-off is an excuse to give movie fans another chance to see Kurt Russell toss out one-liners as he cleans house. That's a formula for success outside of the brand that F9 continues to build, so just imagine it mixed in with the world of this action-adventure IP.
This is only the beginning of where Fast and Furious spin-offs could go, as this already-huge ecosystem has plenty of corners still left untouched. You can see where the road takes Dom and his family in F9, which is currently in theaters. And if you're ready to hit the next exit at a theater near you, check out the 2021 release schedule and chart your next cinematic pit stop.
Your Daily Blend of Entertainment News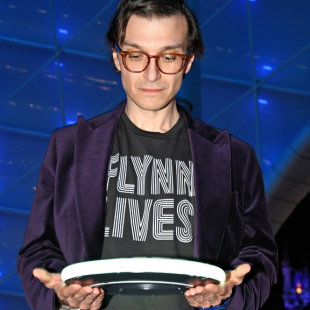 Senior Movies Contributor
CinemaBlend's James Bond (expert). Also versed in Large Scale Aggressors, time travel, and Guillermo del Toro. He fights for The User.