Fear Street: Part 1 Reviews Are Here, Check Out What Critics Are Saying About The Netflix Horror Movie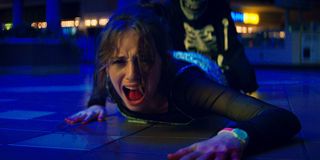 The Fear Street Trilogy, based on the legendary YA horror fiction novels written by R.L. Stine, is about to debut, starting with Fear Street Part 1: 1994. The slasher film is set in, you'll never guess, 1994, when a group of teenagers discover that the horrifying events that have occurred in Shadyside, Ohio might be connected. What's more, they may be the next targets after the curse on the town resurfaces. Directed by Leigh Janiak, the horror flick features Kiana Madeira, Olivia Welch, Benjamin Flores Jr., Julia Rehwald, Maya Hawke, Fred Hechinger, and Ashley Zukerman, with a script co-written by Phil Graziadei and Janiak.
It was announced last summer that the entire trilogy would be headed to Netflix, where Fear Street Part 1: 1994 will be released this Friday, July 2, and the remaining two movies the following two weeks. Critics have started releasing their reviews of the first installment, so let's take a look.
Our very own Mike Reyes rated the film a 4.5 out of 5 stars. He really enjoyed the movie, praising the balance of impressive violence that sets the tone for the entire trilogy and the intriguing story line that makes you really care about the characters. Reyes especially commended Janiak's dedication to take the story into a more mature direction. Overall, he said:
Peter Debruge of Variety liked the slasher film a little less than Reyes. He appreciated the diversity of the cast, but criticized the plot for it's "sketchy" logic and considered it not terribly compelling. Debruge said:
Amelia Emberwing from WhatToWatch commended the LGBTQ representation of the film and noted that the entire ensemble "crushed it," but gave a special shout-out to Flores Jr. as Josh. She also applauded the originality of the flick and the nostalgia it evokes. Emberwing really enjoyed the movie, saying:
David Ehrlich of IndieWire was not super impressed with Fear Street Part 1: 1994. He criticized the writing of the supporting characters, though he did applaud Kiana Madeira for her performance. He also wasn't impressed with some of the horror sequences, calling them "rushed and unexciting." Ehrlich said:
Kristy Puchko from IGN applauded the slasher film for avoiding the stereotypical horror movie characters and including "authentic" characters that viewers will actually care about. Though she does point out that the plot includes a little too much exposition, she enjoyed that the writing keeps you hooked and that Janiak certainly didn't pull any punches with the blood and gore. Puchko said:
Well, critics certainly seem to have mixed reviews of Fear Street Part 1: 1994. Will diehard R.L. Stine fans enjoy the slasher film? We'll soon find out, as the movie debuts on Netflix this Friday, July 2.
In the meantime, check out what else is releasing on Netflix in July.
Your Daily Blend of Entertainment News