How Disney World And Disneyland Are Finally Giving Fans The Pixar And Disney Crossover They've Been Waiting For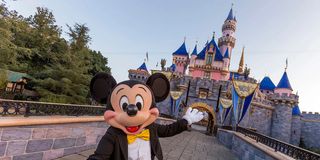 The greatest thing about theme parks is the way they can make you feel like you're inside your favorite stories. But while Disneyland and Walt Disney World can make you feel like you're visiting a Star Wars planet or inside a corner of the Marvel Cinematic Universe, part of what makes that immersion so successful is that all the various franchises are kept separate from each other. The downside of that is that we lose the potential fun of seeing some of these characters interact. However, an update to a popular attraction found at three Disney Parks is about to change that, as Donald Duck is about to visit the world of Pixar's Coco.
Mickey's Philharmagic is a 3-D movie found at Magic Kingdom in Disney World, Disney California Adventure at the Disneyland Resort, and also Disneyland Paris. It's a musical adventure that sees Donald Duck "borrow" Mickey Mouse's sorcerer hat and travel between various Disney movies. He finds himself in Aladdin while Aladdin and Jasmine sing "A Whole New World" and he invades the Beast's castle during "Be Our Guest." But Donald is about to find himself in a very different place as, a new sequence will be added that will see Donald join the "Un Poco Loco" sequence from Pixar's Coco.
This is the first time in history that Disney and Pixar animators have worked together on something that will see characters from both come together in one place, making this new Philharmagic sequence absolutely historic. The new scene will begin on July 17 showing at Disney California Adventure and Disneyland Paris, it will be added to the Magic Kingdom show in conjunction with the 50th anniversary. While no specific date was given, expect it to hit on October 1 when the 50th anniversary celebration officially launches.
The only place we've really seen Disney and Pixar characters together previously has been in video games, and even then it's really only been in the Kingdom Hearts franchise that any of them have really interacted in any meaningful way. But those games are ultimately the creation of their developer and the characters are only licensed from Disney.
The first Mickey's Philharmagic opened back in 2003 at Magic Kingdom but this is the first new addition to the attraction that it has seen since opening. Because the show is broken into segments. Not unlike Star Tours, it's certainly been a candidate for updates previously, just as been done with the Star Wars attraction. The good news for fans is that it appears that the new scene is just being added to the existing show, there's no mention of it replacing something else. So Mickey's Philharmagic will just be a couple minutes longer.
It's also the first time Coco will become part of a regular attraction. The character of Miguel has popped up at Disney California Adventure and at Epcot in the past, but only as part of seasonal events. There have been rumors that the Gran Fiesta Tour boat ride at Epcot's Mexico pavilion could see am update that changes it to a Coco themed ride, but as the Three Caballeros animatronics were recently given updates, that's either not happening, or not set to happen for some time.
CinemaBlend's resident theme park junkie and amateur Disney historian. Armchair Imagineer. Epcot Stan. Future Club 33 Member.
Your Daily Blend of Entertainment News
Thank you for signing up to CinemaBlend. You will receive a verification email shortly.
There was a problem. Please refresh the page and try again.