Fear Street Part 2: 1978 Reviews Are In, Check Out What Critics Are Saying About The Netflix Horror Movie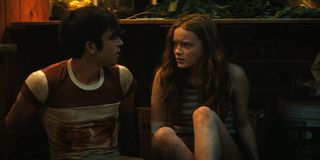 The second installment in the Fear Street Trilogy from director Leigh Janiak is almost here. Part 1 debuted on Netflix last week, to mixed reviews, and now Fear Street Part 2: 1978 is about to release, also on the big red streaming service. Part 2: 1978 is set in 1978 (duh) at Camp Nightwing, where campers and counselors from Sunnyvale and Shadyside must band together to solve a terrifying mystery after horrors from their towns' shared history come alive. The slasher film is based on the book series by R.L. Stine and features Olivia Welch, Emily Rudd, Sadie Sink, Ryan Simpkins, and McCabe Slye.
Fear Street Part 2: 1978 will drop on Netflix this Friday, July 9, with the final film to debut next Friday, July 16. Reviews for the second installment are starting to be released by critics, so let's take a look at what they're saying.
Let's start with the home team. CinemaBlend's Mike Reyes really enjoyed the slasher film, rating it 4.5 out of 5 stars. He thought Fear Street Part 2 effortlessly balanced the tightrope walk between standing on its own and continuing the trilogy. He enjoyed that the stakes rose even higher as the mystery enticed viewers throughout, providing brutal kills, a sharp soundtrack, and fun retro vibes. He argued that fans will be on the edge of their seats waiting for Part 3, and said:
Michael Nordine of Variety had mixed thoughts about the slasher movie, noting that though it was less compelling than the first installment, Part 2 still inspires hope that the trilogy will end on a strong note. Nodine commended the film for inspiring actual interest in the characters, unlike many other slasher films, but criticized it for providing a distance between the viewer and the characters. He also commented that the gore seemed only in place to serve the R-rating rather than actually serve the narrative. He said:
Lovia Gyarkye from The Hollywood Reporter had more positive things to say about Fear Street Part 2. She praised the characters, specifically singling out Sadie Sink (Stranger Things) for her performance as Ziggy Berman. She also applauded the slasher film for its classic-feeling, grisly gore, but did have some criticisms, such as the tedious pacing. Gyarkye said:
Steve Greene from IndieWire also had a pretty positive review of Fear Street Part 2. He commended the performances of the leading and supporting characters and enjoyed that the horror flick actually expanded on the archetypal characters. He also praised Janiak for her ability to keep the internal slasher lore alive throughout the entire film, even in subtle ways. Greene said overall:
Kristy Puchko from IGN thought Fear Street Part 2 was entertaining enough, but not without its weak points. She thought the plot was rushed and too packed with exposition, while the characters lacked developing arcs and polish. She did commend the performances of Sink and Rudd (like we've seen before), and the wicked kills, but overall, said:
Critics sure seem to have somewhat positive but mixed opinions of Fear Street Part 2: 1978. You'll be able to form your own opinion about the slasher film this Friday, July 9, when it drops on Netflix.
For more info on what's releasing on Netflix this month, check out our release guide.
Your Daily Blend of Entertainment News