Zendaya Responds To Lola Bunny Controversy Ahead Of Space Jam: A New Legacy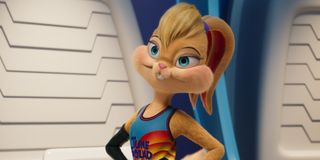 Fans have opinions. A lot of them, especially when it comes to the resurrection of previously beloved franchises or the redesign of iconic characters. There was a lot of hype leading up to the first look at Space Jam: A New Legacy and, when the images dropped, many weren't happy. The reason? A few - ahem - alterations to the original design of Lola Bunny. Many fans weighed in, as well as the film's director Malcolm D. Lee. However, Lola Bunny herself, Zendaya, is now addressing the controversy herself.
Zendaya, everyone's favorite millennial Renaissance woman (singer, actor, dancer, model, fashion it-girl, etc.), sat down with Entertainment Weekly to chat about her role as Lola Bunny. Given the recent controversy, it's unsurprising that the trade asked Zendaya how she felt about the fans' reactions, and whether or not she expected such a strong backlash. The actress said:
A very diplomatic response, although Zendaya has always been a class act. It is true that Lola Bunny was a popular character - she was, as Zendaya put it, "kind of holding it down for the ladies." While it seems strange that mostly grown adults were chiming in about a cartoon character, it's worth noting that most of those adults grew up with the Looney Tunes characters and would therefore be protective of them. Zendaya went on to say:
Zendaya couldn't be more right. Childhood favorites are important - you just need to take a look at the reactions to the ending of Toy Story 3 to see that. Fans could be reluctant to accept a new design due to the sheer fact that it's not the character they remembered loving as a kid. While Lola Bunny's new design is mostly an attempt to desexualize her, it's still different enough to ruffle feathers.
Yes, the complaints are about a cartoon bunny's chest. Yes, that is a bit ridiculous (although there are some valid concerns regarding the relationship between a woman's capability and her sexuality). However, it's still a change, and change can be scary even if it's positive. Luckily, Zendaya wants to do justice to Lola Bunny, and come on - it's Zendaya. Fans have nothing to worry about.
You can hear Zendaya lend her voice to Lola Bunny when Space Jam: A New Legacy hits theaters and HBO Max on July 16.
Your Daily Blend of Entertainment News
Actor, singer, and occasional dancer. Likes: fashion, books, old buildings. Dislikes: cilantro, the NJ Turnpike, sneaker wedges.