Someone Remade Toy Story 3's Final Scene IRL, And Now I'm Emotional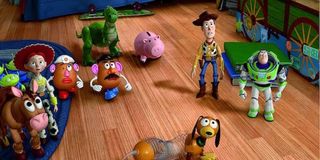 There's nothing quite like a good throwback to a childhood favorite to get to the heart of a '90s kid, and anything Toy Story related is sure to do the trick. Sure Pixar's Toy Story 3 didn't come out until 2010, but millennials and even older generations had been waiting 15 years for the 3rd film, and that tearjerker of a final scene was well worth the wait. Although Toy Story doesn't seem to be getting a live-action reboot like so many other childhood favorites, one mom did recreate Toy Story 3's final scene IRL, and now I'm getting emotional.
New High School graduates are now starting their journey into adulthood, and one mom is marking this beginning in a pretty epic way. While most graduation pictures are either awkward, cookie cutter, or even cringey, Josiah Robles' mom made sure his was memorable, and even nostalgic for thousands of other people who have seen them posted to his Twitter. By using the real-life toys from Toy Story, Mama Robles was able to recreate the final scene from Toy Story 3, as the toys appear to watch the new grad leave the toys behind as he heads to college. You can check out the adorably heartfelt post below:
Okay, you've got to admit that this picture hits pretty hard. Even if you aren't a parent, chances are that you're one of the many kids who grew up watching Toy Story. As an adult, Toy Story hits ten times as hard as we've all left behind those comforts of childhood and headed into the adult world (it's not as fun, is it?) If you are a parent, though, this photo should pretty much dive bomb one's emotions.
It's been over 10 years since Toy Story 3 was released and the final scene tugged at our heart strings. This mom held on to that scene until her own son was in Andy's shoes, and made sure both she and her son had a lasting memory of the moment he accomplished graduation and headed onto a new part of his life.
As you can see in the picture where he is holding a university flag, Josiah Robles is headed to Baylor University in the Fall for the first part of the next stage in his life. It appears his graduation picture has caught the attention of Baylor, because they actually responded to the post with their own Tweet, welcoming him to his new Baylor family and acknowledging the emotional nature of the photo.
Baylor is, by far, not the only one to have "all the feels" from the photo. Josiah Robles' Tweet has caught a lot of people's attention and there are tons of comments saying how sad the photo is making them, whether they are themselves a mother with a child graduating college, or just a former child feeling nostalgic.
While it's awesome (and a little sad) to have an excuse to relive our childhoods, it's also insane to think that it's been so long since Toy Story was released. It looks as if it's not over and we'll have something new to look forward to in the Toy Story universe, though, as Lightyear, a spinoff featuring the intergalactic hero himself, is set to release next year. Maybe Josiah Robles can make a trip home to watch it with Mama Robles and create a new Toy Story memory together - yeah, that'd be nice.
Constantly thinking about books, coffee, and the existential dread I feel from Bo Burnham's Inside. While writing I'm also raising a chaotic toddler, who may or may not have picked up personality traits from watching one too many episodes of Trailer Park Boys.
Your Daily Blend of Entertainment News
Thank you for signing up to CinemaBlend. You will receive a verification email shortly.
There was a problem. Please refresh the page and try again.