The 6 Best Space Jam Moments Ahead Of A New Legacy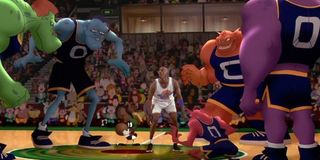 CinemaBlend participates in affiliate programs with various companies. We may earn a commission when you click on or make purchases via links.
Speaking as someone who personally never saw the point of making a Space Jam 2, I am actually cautiously looking forward to Space Jam: A New Legacy - one of many highly anticipated 2021 movies audiences will be able to choose to see in theaters or stream on HBO Max. That gives us plenty of time, before we see Los Angeles Lakers point guard LeBron James slam with the Looney Tunes, to revisit the time former Chicago Bulls shooting guard Michael Jordan slammed with the Looney Tunes in the 1996 box office hit inspired by a Super Bowl ad from four years earlier. Of all the memorable scenes from Space Jam I could spend hours referencing, I managed to narrow down my favorites to the following six hilarious highlights, starting with the moment "Air Jordan" suddenly found himself underground.
The Looney Tunes "Rope In" Michael Jordan
The main plot of Space Jam - in which the Looney Tunes enlist Michael Jordan's help in a basketball game against aliens wanting to enslave them at their struggling theme park - really picks up when the basketball legend-turned-minor league baseball player meets his animated friends. While enjoying some golf with Larry Bird and Bill Murray, a lasso (later revealed to be wielded by Yosemite Sam) emerges from the hole, dragging Jordan into in an underground world beyond the Warner Bros. logo where Bugs Bunny, naturally, plants a big smooch on him before explaining why they need his help. Even before he sets foot in the animated Looney Tune Land, Jordan is literally "roped into" the situation in the most cheekily cartoonish way possible.
Monstars Play Basketball With Michael Jordan… As The Ball
Speaking of cartoonish, Michael Jordan gets a taste of what it is like to literally be cartoonish when he first meets his extra-terrestrial opponents: the Monstars, who were much smaller before they were able to steal the athletic talent of NBA players like Charles Barkley and Patrick Ewing (more on that later). However, Jordan does not officially agree to help Bugs and the gang compete against the beastly B-ballers until after they personally disrespect him by using his crumbled body in a quick scrimmage. From the perspective of a Looney Tunes fan, seeing Jordan tossed around, bounced, and shot into baskets is one of Space Jam's more classically comedic moments, and from the perspective of a human being, it is easily its most bizarre and heart wrenching.
How The NBA Players Cope With Their Stolen Talent
It is also not easy to watch 1993's Most Valuable Player, Charles Barkley, lose a game of street ball to a "five-foot-nothin'" teenage girl and her friends in the very next scene, which then transitions into a montage of the other talent-robbed players (including Muggsy Bogues, Shawn Bradley, and Larry Johnson) enduring rigorous medical testing and revealing therapy sessions to figure out their problem. Despite being a Looney Tunes movie, this live-action montage actually makes me laugh harder than any other scene in Space Jam without fail, from Patrick Ewing's offended response to his therapist asking about his "performance" off the court, to Barkley promising he will never date pop star Madonna again in exchange for getting his talent back. It is always a treat to see celebrities poking fun at themselves, and these NBA All-Stars willfully go for the jugular.
The Looney Tunes Try Michael Jordan's "Secret Stuff"
Also in desperate need for some athletic integrity are the members of the Tune Squad, who are really getting their copyrighted behinds handed to them during a high-stakes game at the center of Space Jam. At half-time, Michael Jordan is struggling to get through to his teammates that they need to try harder when Bugs Bunny finds a solution: convincing them that a simple bottle of water is a special serum that has helped Michael win all these years. When you can get past the clear allusions to performance enhancing drug scandals, the payoff is worth it, as the Tunes make the ultimate comeback, pulling out tricks that range from classic to fresh to win, include Wile E. Coyote's Acme explosives, Tweety Bird's surprisingly vicious Kung Fu skills, and a fun Pulp Fiction parody courtesy of Elmer Fudd and Yosemite Sam.
Bill Murray's Explanation For How He Got To Looney Tune Land
By the end of the fourth period, with just 10 seconds left on the clock, the Tune Squad is only one point behind the Monstars, but are down a fifth player, at which point Michael Jordan's golf buddy and beloved comedic actor Bill Murray - in one of the most iconic movie cameos of his career - appears to save the day. However, even Daffy Duck is a bit alarmed by the random and inexplicably convenient nature of his sudden presence, and asks the former Saturday Night Live cast member how he got there. In one of the film's most brilliant moments of meta humor, Murray explains that, "the producer is a friend of mine," referring to Space Jam producer and Ghostbusters director Ivan Reitman.
Michael Jordan Goes Full Looney Tune To Score The Winning Basket
Once Bill Murray is secured as the Tune Squad's fifth player, the plan is to get the ball to Michael Jordan to score the winning basket before the clock runs out, which he manages to do by remembering what Bugs Bunny and Daffy Duck told him about the magical effect that being in Looney Tune Land has on a person. With ball in hand but half-way across the court and Monstars literally weighing him down, Jordan stretches his arm an extra several lengths to perform an epic and undeniable slam dunk right before the buzzer goes off. Space Jam could not have had a better conclusion than seeing its live action athlete-turned-actor star get "animated" to secure a victory.
BONUS: The Whole Space Jam Soundtrack
In addition to these timeless moments from the original Space Jam, the one thing that really keeps me coming back is the soundtrack, which I, honestly, think is much better than a movie about cartoon characters competing in a basketball game deserved to be. The six-times platinum album enlists the biggest and best names in R&B and hip-hop at the time, including Seal with his cover of Steve Miller's "Fly Like an Eagle," a crossover that includes LL Cool J and Busta Rhymes for The Monstars' anthem "Hit 'Em High," and, of course, the title track by Quad City DJs that never fails to hype up a crowd. Before the Marvel movies made it cool, I would always be sure to sit through Space Jam's end credits just to hear the medley of tracks both from and inspired by the film.
Well, that's all folks. I must say, though, that Space Jam: A New Legacy has a lot to live up to, judging by the music and hilarious moments above. We will find out just how strong this legacy is when the film releases in theaters and on HBO Max Friday, July 16, 2021.
Your Daily Blend of Entertainment News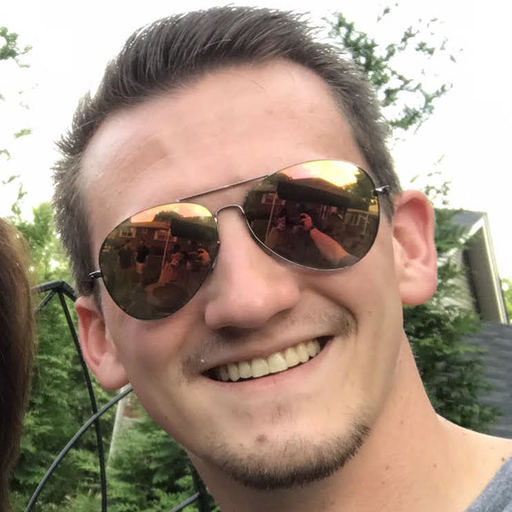 Jason has been writing since he was able to pick up a washable marker, with which he wrote his debut illustrated children's story, later transitioning to a short-lived comic book series and (very) amateur filmmaking before finally settling on pursuing a career in writing about movies in lieu of making them. Look for his name in almost any article about Batman.