5 MCU Easter Eggs That Would Be Cool To See In Shang-Chi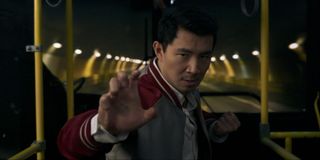 Fans have a number of Marvel movies to look forward to in the very near future, some featuring veteran characters and others showcasing new faces. This year's Shang-Chi and the Legend of the Ten Rings falls into the latter category. The 25th film in the Marvel Cinematic Universe is primed to be a family drama that will also give the franchise its first Asian lead. While it's true that this will be the Master of Kung Fu's first foray into the universe, it doesn't mean there can't be links to the greater MCU.
Marvel Studios never hesitates to thread connective tissue through its movies. So as Shang-Chi wrestles with his past, present and future, there will likely be references to people, places or events from the MCU's past. And maybe some might even give us ideas of what's to come. Now, without further ado, let's take a look at some potential Easter eggs that would be cool to see in Shang-Chi and the Legend of the Ten Rings:
Mention Of The Ten Rings' Past Exploits
The Ten Rings organization has been present in the MCU since the very beginning, having debuted in 2008's Iron Man as Tony Stark's kidnappers. Since then, the terrorist group has popped up here and there, even to the point of an operative looking to obtain the Yellowjacket technology in 2015's Ant-Man. Now, Shang-Chi and the Legend of the Ten Rings provides an opportunity for the MCU to dive deep into their history. So why not look back on some of their biggest crimes in the process?
Shang-Chi, the son of the Ten Rings' leader (Wenwu/The Mandarin), will likely take his father to task for the activities the organization has engaged in over the years. I would hope that detailing the group's past misdeeds will give viewers a better understanding of why they do what they do. In the process, it could force Wenwu to reckon with the history of his infamous organization. And who knows, if these references are to happen, maybe we'll learn that there's a method to the Mandarin's madness.
A Small Nod To Ant-Man
The Marvel Cinematic Universe is a very big place and, as such, the characters are typically scattered across different corners of the fictional world. That is unless a massive event brings them together, like a giant, purple alien wielding a cosmic gauntlet arrives and threatens the universe. Barring any situation such as this, the heroes are mostly far from each other, yet Shang-Chi shares a connection with a fellow hero: Ant-Man. Like Scott Lang and Hope van Dyne, the martial arts master also lives in the city of San Francisco.
Yes, this is an incredibly small detail in the grand scheme of things, but it's honestly cool to have two MCU heroes based in the same area (Spider-Man and Doctor Strange, for instance). Given the shenanigans Ant-Man and Wasp have gotten into in San Francisco, it wouldn't be crazy for someone to bring something up from the first two films in that franchise. Or maybe a character even mentions Ant-Man and Wasp recently saving the day.
The Return of Trevor Slattery
A number of readers are sure to shake their heads when going over this particular point but, unlike many people, I liked Iron Man 3's major twist, which revealed that Aldrich Killian's "Mandarin" was merely an actor named Trevor Slattery. It was a polarizing choice, to say the least, but one that was a bold decision on Marvel Studios' part. Trevor was last seen in the Marvel One-Shot All Hail The King, in which he was broken out of Seagate Prison by the Ten Rings and presumably taken to the real Mandarin. Now, Shang-Chi can tie up that plot thread.
If I'm being honest, I'm incredibly curious as to what became of Trevor Slattery, and it would be a joy to see Sir Ben Kingsley reprise the role. Such a scene doesn't even have to be that long. I'd even be down for a brief glimpse of Slattery in a dungeon somewhere complaining about the "room service." It's a long shot but, if we've learned anything from the MCU, it's that just about anything is possible.
An Appearance From Doctor Strange
The latest trailer for Shang-Chi was full of notable shots, but the one that was arguably the most surprising came at the very end. The trailer teased a battle between a giant monster that looked like the Abomination and a mystic who looked like Kamar Taj veteran Wong. Well, Marvel Studios chief Kevin Feige later confirmed that this was indeed the case. So now that we know that Wong shows up, is there a chance his ally, Stephen Strange, can pop in as well.
There probably won't be an opportunity for Doctor Strange to show up in the middle of the movie, given everything else that'll be transpiring. However, he could definitely drop in during a mid or post-credits tag that gives context for Wong's battle with Emil Blonsky. And as many are likely aware, Doctor Strange in the Multiverse of Madness is coming our way early next year. Considering this, a small scene of some kind could be a nice way to set that stage for Wong and Strange's adventure in that film.
A Segue Into Disney+'s She-Hulk
Of course, the other obvious cool aspect of Wong's battle is that it marks the return of the Abomination, who has not been seen in the MCU since 2008's The Incredible Hulk. Marvel Studios previously confirmed that Tim Roth would reprise his role as Emil Blonsky on She-Hulk (one of the many upcoming Marvel TV shows), but fans probably didn't think he'd pop up beforehand. Shang-Chi is certainly an interesting place for Blonsky to step back into the spotlight, and it could give us hints about his role in the upcoming Disney+ show.
As I mentioned before, Marvel Studios is very purposeful when it comes to using its characters. Keeping this in mind, it's very likely that Shang-Chi will place him in a prime position for She-Hulk. The Hulk-like creature seemed to be duking it out with Wong in an underground tournament, which could very well be illegal. Maybe an ending tag will show Blonsky getting into trouble for his participation, which implies that he'll need legal representation. Enter: Jennifer Walters! It's only speculation at this point, but it would make for a smooth transition into his small-screen role.
MCU Phase Four is shaping up to be an exciting era for the big-screen franchise, and Shang-Chi and the Legend of the Ten Rings will hopefully be a worthy addition to the canon. We'll see how the film references the larger universe when it arrives in theaters on September 3. And in the meantime, you can check out the Infinity Saga films and the TV shows by streaming them on Disney+.
Covering superheroes, sci-fi, comedy, and almost anything else in film and TV. I eat more pizza than the Teenage Mutant Ninja Turtles.
Your Daily Blend of Entertainment News
Thank you for signing up to CinemaBlend. You will receive a verification email shortly.
There was a problem. Please refresh the page and try again.