James Gunn Reveals His Biggest Guardians Of The Galaxy Regret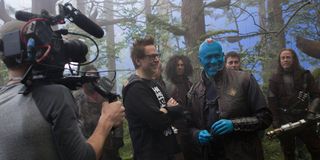 CinemaBlend participates in affiliate programs with various companies. We may earn a commission when you click on or make purchases via links.
James Gunn's The Suicide Squad has been screened, and those lucky enough to see it ahead of its release are loving it. The Suicide Squad had to be rated R to work, and the film is not going out of its way to connect to the larger DC movie universe. Then there's Guardians of the Galaxy, which is James Gunn's MCU baby that catapulted him into comic book movie director superstardom. And Gunn has recently revealed his biggest Guardians of the Galaxy regret.
James Gunn has been promoting The Suicide Squad, and it's impossible not to bring up Guardians of the Galaxy since it's his most well-known franchise. Gunn has already made two excellent Guardians movies, and Guardians of the Galaxy Vol. 3 is one of the most anticipated MCU movies coming down the line. Speaking to MovieMaker.com, James Gunn revealed his biggest regret he has about Guardians of the Galaxy, saying:
James Gunn describes certain trouble he experienced while making Guardians of the Galaxy Vol. 1 and 2. Gunn says production was such a rush to shoot, doing things in an unconventional way to get the most out of the films. The time crunch James Gunn experienced seemingly became a part of everything he did while working on Guardians of the Galaxy. Gunn developed anxiety that followed him all day on set while working on these films.
James Gunn says he retained the panic and anxiety he developed making Guardians 1 through making Guardians 2. Gunn further went on to explain that he needed to learn how to concentrate more on relaxing, and taking everything in stride while working on these massive projects. And since the filmmaker has been open about how much fun he had filming The Suicide Squad, it sounds like he might have found that sweet spot.
James Gunn has also recently explained how he was almost fired from Guardians of the Galaxy Vol. 3 over a Twitter controversy. Guardians of The Galaxy Vol. 3 is closely connected to Thor: Love and Thunder, and Karen Gillan has been teasing Nebula's role in the upcoming Thor film. With The Suicide Squad set to release soon, James Gunn now has both feet firmly planted in the MCU and DCEU.
Fans are very excited about The Suicide Squad for many reasons, one of which is the magnificent King Shark, who is poised to be the film's breakout star. Another Batman villain has been revealed to be appearing in The Suicide Squad, addinganother one of the Caped Crusaders rouges gallery to the mix. The Suicide Squad will be released on August 6th, and it's shaping up to be one of the best DC movies so far.
Movie and TV obsessive. A good Heist movie is the way to my heart. Enjoyer of everything from Marvel Movies to Rom-coms.
Your Daily Blend of Entertainment News
Thank you for signing up to CinemaBlend. You will receive a verification email shortly.
There was a problem. Please refresh the page and try again.