Harry Potter's Remus Lupin Actor Shares Sweet Post After Sharing He Secretly Got Married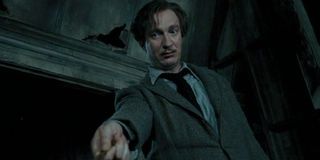 If Remus Lupin wasn't already your favorite Harry Potter character, he might be after you see just how charming David Thewlis, the actor who portrayed the werewolf Defense Against the Dark Arts professor in the films, really is. The British actor recently got married in secret earlier this year, and it is apparent from his recent, super sweet post about his new wife that he's enjoying every minute of his relationship.
In what is pretty much the most unusual and adorable Instagram post I've ever read, David Thewlis tells the world what meeting his now-wife, Hermine, (which is oddly similar to Hermione) was like, and it was definitely an interesting meet-cute. Thewlis intricately writes about the red dress his French wife was wearing and how he didn't believe her when she said she used to be a ring mistress of a flea circus. Is anyone else getting some subtle Coraline vibes?
The amazing story is enough to rival David Thewlis' on-screen romance with Harry Potter co-star Natalie Tena, who played Nymphadora Tonks to his Remus Lupin. Despite their difference in age and Lupin's status as a werewolf, the two characters fell in love, married and had a child. Unfortunately, both met tragic (and heroic) deaths by the end of the film franchise.
Thankfully, David Thewlis' real-life relationship is far from tragic. But apparently, he's now spending some time apart from his partner and, in his post, he describes the distance as making him feel as though he is one of her fleas. Here are the lovely words the Harry Potter actor wrote in regard to how it feels to be away from her:
It's a wild ride of a love story, and I'm in love with both David Thewlis and his wife, Hermine, after reading that. The loving message is accompanied by a series of photos showing off his clearly adored wife, and she totally fits the bill of a retired flea circus ringmaster. You can check out the photos and the entire post by Thewlis below:
It's been 10 years since his character died alongside his on-screen love in Deathly Hallows Part 2, but it certainly sounds like David Thewlis' post Harry Potter life is still full of magic. It's nice to see he's had success in love, while his film and TV career is also still very prosperous. He just appeared in Zack Snyder's Justice League and has a few other projects in the works. But despite being busy with his career, it's safe to assume he'll always take an opportunity to make his partner feel appreciated.
Constantly thinking about books, coffee, and the existential dread I feel from Bo Burnham's Inside. While writing I'm also raising a chaotic toddler, who may or may not have picked up personality traits from watching one too many episodes of Trailer Park Boys.
Your Daily Blend of Entertainment News
Thank you for signing up to CinemaBlend. You will receive a verification email shortly.
There was a problem. Please refresh the page and try again.