The Green Knight Has Screened, Here's What People Are Saying About A24's Fantasy Movie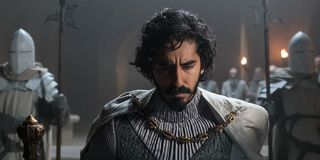 Everyone loves a good medieval fantasy film, right? The upcoming blockbuster The Green Knight from A24 is just that. From director David Lowery comes a bold spin of the Arthurian legend Sir Gawain and the Green Knight that follows the story of Sir Gawain (played by Dev Patel), King Arthur's nephew, who journeys to confront the Green Knight, a gigantic tree-like creature and tester of men. Along with Patel, the movie features Alicia Vikander, Joel Edgerton, Sarita Choudhury, and Sean Harris.
The newest trailer for The Green Knight made our jaws drop, so now we're even more excited to see this movie. We don't have much longer to wait, as the fantasy epic is heading to theaters on July 30. The social embargo has been lifted and critics are starting to share their thoughts on social media, so let's check them out.
Hoai-Tran Bui from Slashfilm definitely enjoyed The Green Knight, and specifically applauded Lowery's direction. She called the fantasy epic a "mesmerizing, transporting, magnificently bizarre journey that is one of the rare movies to really appreciate how sexy Dev Patel is." I mean, sign me up! Bui said:
People really seem to be enjoying Dev Patel's performance in this epic. Shannon McGrew, member of the Hollywood Critics Association, thought his performance in this fantasy flick will be career-defining. She called The Green Knight "magnificent," and specifically commended the stunning visuals, saying:
Barry Hertz from The Globe and Mail thought that the long wait for this movie was worth it (it was originally supposed to premier at South by Southwest last year). He also commented on Patel's performance, saying:
Joanna Robinson from Vanity Fair is just outright obsessed with The Green Knight. She called it a nostalgic throwback, a classic A24 horror movie (that we have all come to expect from A24, let's be honest), and a "classically challenging David Lowery story." Here's what Robinson tweeted:
That classic A24 creepiness was noted in Nerdist's Kyle D. Anderson's tweet, as well. He called the medieval fantasy film a "haunting" adaptation of the Arthurian legend that really shows the creepiness in those stories. He also commended some aspects of the movie that we haven't read from other critics, such as the costumes and Daniel Hart's music. Anderson said:
People really seem to be enjoying The Green Knight! We'll soon have official reviews, and then we'll be able to see the fantasy film for ourselves when it releases in theaters on July 30.
In the meantime, plan your next movie-going experience with our summer movie release guide.
Your Daily Blend of Entertainment News