Snake Eyes Reviews Have Dropped, Here's What Critics Are Saying About The G.I. Joe Origins Movie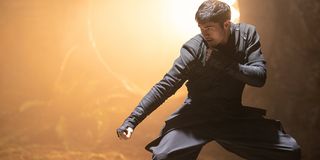 Henry Golding's next blockbuster is almost here! The actor, known for such films as Crazy Rich Asians and Last Christmas, stars as Snake Eyes in Snake Eyes: G.I. Joe Origins (also known simply as Snake Eyes). In the superhero film (which serves as an origin story for the character) a mysterious lone fighter, known only as "Snake Eyes," is welcomed into and trained by an ancient Japanese ninja clan called the Arashikage. But he finds his loyalties being tested when secrets from his past are revealed, as he eventually goes on the path to become the famous G.I. Joe hero. Along with Golding, the cast includes Andrew Koji, Úrsula Corberó, Samara Weaving, and Iko Uwais.
Henry Golding himself has hinted at a connection between the film and the G.I. Joe multimedia franchise, which will be important for fans. We'll soon be able to see the connections for ourselves, as the film releases this Friday, July 23. Critics have started publishing their reviews of the movie, so let's take a look.
Why don't we start on the CinemaBlend side of things. Our very own Eric Eisenberg was somewhat disappointed with the action flick, rating it 3 out of 5 stars. His main critique is that while Henry Golding is supposed to be the main protagonist, "co-star Andrew Koji winds up pulling off one of the more impressive spotlight-stealing performances in recent memory as Tommy." While Eisenberg noted that it's not necessarily a bad thing for a supporting character to outshine a lead, it just highlights the lack of focus in the movie. He argued that there's too much plot thrown at the audience that doesn't always make sense, and said:
William Bibbiani from TheWrap also considered Snake Eyes a mediocre movie. He commented on the rushed plot, noting that the film jumped ahead too much and the audience had to struggle to catch up. He argued that the character of Snake Eyes didn't even drive the story so much as got dragged around from one exposition scene to the next. He did note that at least Golding and Koji had a lot of chemistry, which is all the film had to offer for too much of its runtime. Bibbiani said:
The negative reviews of Snake Eyes continue with Aaron Neuwirth's review from We Live Entertainment. He had many criticisms of the action film, from the badly shot and un-enjoyable action sequences (which is kind of a problem in an action movie) to the all-too-predictable character arc of the titular Snake Eyes. He did enjoy Koji's performance as Tommy (definitely sensing a pattern in these reviews), but commented that the rest of the cast unfortunately doesn't bring much more to the table. Neuwirth said:
That all-too-predictable arc of the main character is seen in multiple reviews. For instance, Lindsey Bahr from Associated Press argued that Golding's character is just "woefully generic," and thought that while Golding has an effortless charisma that huge movie stars possess, he wasn't the right actor for the part. While she did enjoy some of the cinematography and a few other characters, like Koji's Tommy (yep, definitely sensing a pattern here), her main criticism is of the titular character, saying:
John DeFore of The Hollywood Reporter had a bit more positive opinion of Snake Eyes. While he also thought, like previous critics, that the screenplay failed to make the titular character compelling, and that the plot was too silly and convoluted, he did enjoy the action sequences. He also commended Golding's charisma in his role, and applauded some of the fantastical elements of the film. DeFore said:
Critics sure seem to have quite a few negative opinions of Snake Eyes. For an action film, they sure seem to be criticizing the actual action (though Henry Golding has shared a behind the scenes video of an intense sequence that looks pretty cool). Will audiences enjoy the flick more than these critics have? We'll soon find out, as the movie releases in theaters tomorrow, July 23.
In the meantime, plan your next movie-going experience with our summer movie release guide.
Your Daily Blend of Entertainment News
Thank you for signing up to CinemaBlend. You will receive a verification email shortly.
There was a problem. Please refresh the page and try again.