Avatar Sequels Producer Just Answered A Fan Question With Cool Concept Art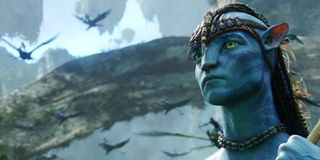 Avatar 2 has finished filming and is in post-production, with a scheduled release date in December of 2022. James Cameron and his Avatar crew recently celebrated one year since filming wrapped on the highly-anticipated sequel, and fans of the record-breaking first film can't wait to see what the sequels will be like. Avatar 2 will hopefully flesh out the world of Pandora and answer the interesting questions the first film raises. Speaking of, a producer for the upcoming Avatar sequels just answered a fan question with cool concept art.
Pandora was such an exciting setting, and the first Avatar film only explored a fraction of it. The sequels will explore new parts of the planet, mainly in the ocean, where it seems like a chunk of Avatar 2 will be set. Avatar has had diehard fans wondering about the mechanics of the planet and how it works since the release of the film in 2009, and a producer for the sequels just answered one question fans have had about the weather while sharing some concept art via Instagram. Take a look.
Jon Landau, a producer for the Avatar sequels, posted a remarkable piece of concept art that is really cool and answers a long-standing fan question about the weather on Pandora. Jon Landau said fans became curious about bad weather on Pandora after he shared a post having experienced some bad weather last week. The art shows a vicious squall on the ocean with a Na'vi riding through it. The art Landau posted is actually something fans have been curious about and interested in seeing for a while.
Pandora has lower gravity and a thicker atmosphere than Earth, so it raises obvious questions about how storms and other weather phenomena would be like on the planet. Pandora has floating mountains and other incredible features, so it's only fitting to think that the storms on the alien planet would be pretty gnarly. The concept art might indicate that we will see how treacherous and otherworldy the storms on Pandora really are.
The Avatar sequels are a big deal, so much so that James Cameron once threatened to fire the entire writer's room because the ideas weren't bold enough. It will have some heavy hitters too, with Kate Winslet reuniting with James Cameron in Avatar 2, deciding to drink the Kool-aid and join in on all the fun. The sequels will also be stacked with other new characters, including Michelle Yeoh, who has recently explained the reasoning behind why she wanted to join James Cameron's sequels being a fan of the director.
Though we haven't seen a ton from the flicks yet, we did recently learn the sequels may already have some elements inside of Disney World's Pandora attraction, so some secrets might already be out there for fans to discover. The hype for the sequels will only continue to grow as we inch closer and closer to Avatar 2's release date. It's been over a decade since the first film, but Avatar 2 is poised to break records and set some new standards for blockbusters in 2022.
Movie and TV obsessive. A good Heist movie is the way to my heart. Enjoyer of everything from Marvel Movies to Rom-coms.
Your Daily Blend of Entertainment News
Thank you for signing up to CinemaBlend. You will receive a verification email shortly.
There was a problem. Please refresh the page and try again.