Bruce Campbell Becomes Every Member Of The Addams Family In Wild Deepfake, And I Will Never Unsee It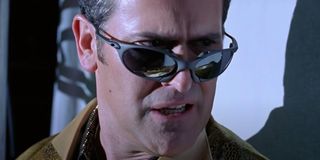 There are some things you see that you can't forget, leading you to wake up from a fever dream every few years about it for the rest of your life. Bruce Campbell as everyone from The Addams Family is one of those things. Somebody made a wild deepfake of the iconic B-movie star, and it's pretty unforgettable... and honestly, I don't really want to ever forget about it.
Bruce Campbell is one of those actors who can laugh at himself and has always been very in tune with his fans and all the theories made about him. So it's no surprise that he found a deepfake of himself and would be the one to share it so that the rest of his fans can enjoy the masterpiece that it is. While you might think it would be a little disturbing to see Campbell's chin and the rest of his face transplanted onto an entire creepy, kooky and altogether ooky family, it actually kind of works.
I've seen it, now you have to; so here's Bruce Campbell's Twitter post showing him as each one of the Addams Family members:
While I'm kind of disappointed that Gomez isn't more attractive with Bruce Campbell's face, Uncle Fester really does look legit. Wednesday is downright horrifying, but honestly, that makes her a little more lovable and just strengthens her character traits. Thing, of course, doesn't have a face to deepfake, but I really hope the creator took the initiative to deepfake Campbell's hand and really complete this otherwise perfect family.
One member of the Addams Family really doesn't get enough credit, and that's Grandmama. Everyone forgets about her! The creator of this deepfake, though, really thought things through and slapped Bruce Campbell's face under the wild mane of frizzled grey hair, even toning the shade of his skin to a nice old grey.
Most of the comments on Bruce Campbell's Tweet are ecstatic about the deepfake, saying they would pay large sums of money for this project to actually happen (I wouldn't hold my breath though). However, one fan even says that if there were to be another lockdown where people have to isolate themselves again, he wouldn't be surprised if Campbell actually makes the deepfake a reality. I mean, he's definitely done weirder things - remember his mummy-hunting elderly Elvis?
Some fans, though, seem to hate it. One comment simply says "No," while others really are diving deep into how much the deepfake disturbed them, particularly where Bruce Campbell's Morticia is concerned. Okay, well, he doesn't make nearly as lovely of a Morticia as Carolyn Jones or Anjelica Huston.
Love it or hate it, you will surely remember it. I certainly won't be getting it out of my head any time soon. Bruce Campbell's (very likely) appearance in Doctor Strange in the Multiverse of Madness may help us forget the unforgettable, though, so see if you can spot him in the upcoming film next year.
Constantly thinking about books, coffee, and the existential dread I feel from Bo Burnham's Inside. While writing I'm also raising a chaotic toddler, who may or may not have picked up personality traits from watching one too many episodes of Trailer Park Boys.
Your Daily Blend of Entertainment News
Thank you for signing up to CinemaBlend. You will receive a verification email shortly.
There was a problem. Please refresh the page and try again.