Wild Mission: Impossible Deepfake Replaces Tom Cruise With Evil Dead's Bruce Campbell (And He Approves)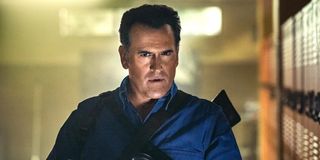 There was once a time when digitally replacing a person's face with someone else's was the stuff of fantasy. Nowadays though, you won't have any trouble finding such a feat, with deepfakes being one of the most popular forms of entertainment on the internet. Tom Cruise in particular become a popular deepfake target, with a recent video replacing the Mission: Impossible actor's face with Bruce Campbell's. Fortunately, the Evil Dead star approves of this facial transfer.
Using footage from 2018's Mission: Impossible - Fallout, here we see how Bruce Campbell rushing to save the world as Ethan Hunt would look like if Bruce Campbell played the role. Take a look at the Twitter video!
It's worth noting that this Tom Cruise deepfake Bruce Campbell shared does not originate from the deeptomcruiseTikTok account that's collected a lot of attention in recent months. Frankly, it's unclear who made this latest deepfake with the Reface app, whether it was an outside party or Campbell (or someone he knows) simply made it. Either way, for those of you who ever wondered, either purposefully or as part of a fever dream, what it would be like if Campbell led a Mission: Impossible movie, now you have a taste of that.
Now obviously the Ethan Hunt role belongs to Tom Cruise, with the actor having played the character since 1996 and on deck to play him at least two more times. That's not to say that there might not come a day when Cruise exits the Mission: Impossible franchise and Paramount Pictures decides to recast the character, although in that scenario, I imagine the studio would pick a younger actor to take the reins. The point being, don't go thinking Bruce Campbell is suddenly on deck to fill the Ethan Hunt shoes, even though Campbell is only four years older than Cruise.
That being said, if there's still time, I wouldn't mind seeing Bruce Campbell seen in Mission: Impossible 8. The actor, best known for playing Ash Williams in the Evil Dead franchise, knows his way around non-horror corners of the Hollywood sphere, whether it's cameoing in Sam Raimi's Spider-Man trilogy or taking part in Oz the Great and Powerful. Campbell is also no stranger to espionage-related stories, having starred as Sam Axe on the TV series Burn Notice. With all these bonafides, I can't be the only one who'd like to see him leave a mark on the Mission: Impossible franchise, right?
Should Bruce Campbell be drawn into the world of the IMF, we'll obviously let you know, but at least Mission: Impossible fans can take comfort knowing that the next installment has a stacked cast. Along with familiar faces like Simon Pegg and Rebecca Ferguson returning alongside Tom Cruise, Mission: Impossible 7's new faces include Hayley Atwell, Pom Klementieff, Shea Whigham and Cary Elwes, among others. As for Campbell, it's looking like his next movie will be Doctor Strange in the Multiverse of Madness, with his old buddy Sam Raimi directing the sequel.
Mission: Impossible 7 opens in theaters on May 27, 2022, and Mission: Impossible 8 will follow on July 7, 2023. If you're wondering what movies are still slated to arrive later this year, head to our 2021 release schedule.
Connoisseur of Marvel, DC, Star Wars, John Wick, MonsterVerse and Doctor Who lore. He's aware he looks like Harry Potter and Clark Kent.
Your Daily Blend of Entertainment News
Thank you for signing up to CinemaBlend. You will receive a verification email shortly.
There was a problem. Please refresh the page and try again.