Why The Suicide Squad Is The Perfect James Gunn Movie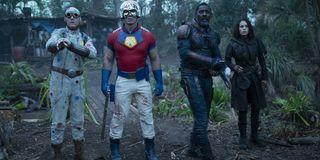 The following article contains SPOILERS for The Suicide Squad. If you have yet to see James Gunn's epic DC movie, we strongly recommend giving it a watch before reading any further.
The Suicide Squad has been called the GOAT of superhero movies, and after watching it several times now, it's easy to see why Margot Robbie would describe the movie that way. Is it a perfect movie? No, not really. Is it the best James Gunn movie? It's certainly up there. One thing is for sure though: the epic, hilarious and gory incarnation of DC's Comics Task Force X is the perfect James Gunn movie.
I know this is a lofty statement, but hear me out. James Gunn's The Suicide Squad feels like a culmination of the visionary filmmaker's career and includes elements of essentially every movie he has written or directed over the years, including his Guardians of the Galaxy movies and Slither. It's probably the movie I would recommend if anyone wanted to know what Gunn was about. Here are a few reasons to back up this claim.
The Suicide Squad Has The Humor We've Come To Love From His Guardians Movies
When people talk about Guardians of the Galaxy and its sequel, Guardians of the Galaxy Vol. 2, one of the first things to come up is the franchise's humor. James Gunn's distinct voice is oftentimes what sets those movies apart from everything else in the Marvel Cinematic Universe. The same can be said about The Suicide Squad and its place in the DCEU.
Now this isn't to say The Suicide Squad is a funnier movie than either of James Gunn's Marvel movies, but his unique brand of comedy shines throughout the DCEU film and makes these over-the-top characters seem like real people (even if one is a shark humanoid). The best example of this is the interaction between some of the surviving members of Task Force X when they debate over Milton after he is killed during the siege at Jötunheim. Harley Quinn being confused and going back and forth with Bloodsport and Polka-Dot Man is up there with any of the funniest moments from Guardians of the Galaxy.
The Suicide Squad Is An Underdog Story, A Staple Of Jame Gunn's Filmography
At the end of the day, The Suicide Squad is an underdog story, which is something James Gunn has pulled off beautifully over the years. Whether it be Rainn Wilson's Frank Darbo becoming a masked vigilante in Super or Star-Lord (Chris Pratt) trying to make a name for himself in Guardians of the Galaxy, having an unlikely hero rising to the occasion has become a constant source of storytelling for Gunn over the years, and his latest use of it is honestly one of his best.
Here you have this unlikely team consisting of Bloodsport (Idris Elba), Harley Quinn (Margot Robbie), Ratcatcher 2 (Daniela Melchior), Polka-Dot Man (David Dastmalchian) and King Shark (Sylvester Stallone) going up against a massive starfish from outer space who is hellbent on dominating the world. Severely outmatched by the "freaking kaiju," the team pulls off the impossible and defeats him in glorious fashion. Though the odds are heavily stacked against them, Task Force X rises up and becomes a solid team capable of anything.
The Suicide Squad Touches On Parenthood Like Guardians Of The Galaxy Vol. 2
The Suicide Squad is a hilarious and bloody romp with some of the best humor and gore you'll see in a comic book adaptation, but it's also a very tender movie that spends a great deal of time touching on parenthood. This is a topic James Gunn has tackled in everything from Mekhi Phifer's character in Zack Snyder's Dawn of the Dead remake to playing a major part in the events of Guardians of the Galaxy Vol. 2, especially with Yondu's heartfelt line about being Peter Quill's "daddy."
We see this again in The Suicide Squad with Bloodsport, as he becomes a better father over the course of the mission to take out Project Starfish. At the beginning of the movie, he is essentially extorted by Amanda Waller to complete the mission if he wants to keep his daughter out of prison; a daughter with whom he has a broken relationship. Then you have Ratcatcher 2, whose father died of a heroin overdose when she was just a child. Bloodsport learns to be a better father for his daughter by being there and supportive of Ratcatcher, even if it means getting over his biggest fear: rats.
At Times, The Suicide Squad Feels Like A Big Budget Slither
James Gunn has always added elements of horror to his various screenplays, which makes perfect sense considering he got his start working for Troma Entertainment in the 1990s. After writing movies like Tromeo and Juliet, the two live-action Scooby-Doo films and Dawn of the Dead, Gunn made his directorial debut with the 2006 horror-comedy Slither, which has a lot in common with The Suicide Squad besides just the inclusion of Nathan Fillion and Michael Rooker. I'm talking about a sentient extraterrestrial parasite that absorbs and controls the minds of its hosts.
As I watched Starro spit out hundreds of smaller space starfish and began to control its victims through a hive mind, I couldn't stop thinking about Slither and how far James Gunn has come in the past 15 years. With a massive budget and state-of-the-art special effects, Gunn essentially recreated elements of his first movie, making for a great moment in a film full of memorable scenes.
The Suicide Squad Shows What An Uninhibited James Gunn With A Big Budget Is Like
Somehow, by some stroke of luck (or just a trustworthy Warner Bros), James Gunn was able to make The Suicide Squad with no interference from the studio or anyone else, allowing him to tell the story he wanted to tell, how he wanted to tell it. Even though he had a massive budget to work with on the movie, Gunn was able to keep an R rating (which is made very clear a few minutes into The Suicide Squad) and tell a glorious story with so much gore, swearing,and insane action. It almost feels like Warner Bros. said "Make Guardians of the Galaxy, but don't worry about toning anything down," and it makes it that much better.
It will be exciting to see who Disney and Marvel Studios responds with James Gunn's upcoming Guardians of the Galaxy Vol. 3, which is set to land in theaters in 2023. Obviously, the House of Mouse isn't going to let Groot rip people in half or show all the gory details of Rocket Raccoon stealing someone's eye, but it will be interesting nonetheless.
If The Suicide Squad was the last movie James Gunn made (it's not so don't worry), I could honestly say it is the best representation of the his career and is the perfect movie to recommend to anyone who's curious about his work. Do you agree? Fill out the poll down below and let us know what you think.
This poll is no longer available.
Philip grew up in Louisiana (not New Orleans) before moving to St. Louis after graduating from Louisiana State University-Shreveport. When he's not writing about movies or television, Philip can be found being chased by his three kids, telling his dogs to stop yelling at the mailman, or yelling about professional wrestling to his wife. If the stars properly align, he will talk about For Love Of The Game being the best baseball movie of all time.
Your Daily Blend of Entertainment News
Thank you for signing up to CinemaBlend. You will receive a verification email shortly.
There was a problem. Please refresh the page and try again.