Upcoming Sylvester Stallone Movies: The Suicide Squad And More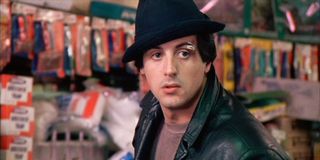 For more than 50 years now, Sylvester Stallone has been one of the most prolific faces and physiques in Hollywood, one that has continued to find success year after year and decade after decade. And while no one would hold anything against "Sly" if he hung up his boots, boxing gloves, and oversized semi-automatic rifles after creating and starring in some of cinema's most iconic movies, the 74-year-old action star isn't ready to call it quits just yet. I guess it won't be for at least a few years, considering Stallone will appear in Samaritan, The Suicide Squad, and a number of other exciting projects in the coming months and years.
So, if you are wondering what the man who gave us Rocky, Rambo, Cobra, Lincoln Hawk, John Spartan, or any other badass character from the second half of the 20th Century and beyond is up to these days, you've come to right place. Hold on because we've got a lot to unpack here.
Samaritan - June 4, 2021 (In Production)
Despite being one of the biggest action stars of all time, we have never really seen Sylvester Stallone play a superhero before (although his characters all seemed to have inhuman abilities at times). That will soon change with the release of Samaritan, the upcoming gritty superhero thriller from Julius Avery that will feature Stallone taking on the role of Stanley Kominski, a famed superhero who was thought to have disappeared decades earlier. According to Deadline, the movie will follow a young boy, played by Euphoria's Javon "Wanna" Walton, who takes off on a journey to find the hero of yesteryear, only to learn that he may be closer than anyone could have ever thought. Martin Starr, Pilou Asbaek, Dascha Polanco, and Moises Arias are all set to star in Samaritan as well.
The latest Sylvester Stallone action thriller was first announced in February 2019, but production didn't get underway in Atlanta, Georgia, until early 2020. In March, Deadline reported that Samaritan was taking a two-week hiatus as the COVID-19 pandemic began to pick up and shut down film and television sets around the world. Principal photography had resumed by October when Stallone, who is quite active on social media, took to his Instagram account to announced that filming going "absolutely great." Stallone was still filming Samaritan as recent as late November, but it remains unclear just how much is left. Despite these delays, the movie is still set to drop in theaters on June 4, 2021.
The Suicide Squad - August 6, 2021 (Post-Production)
Those of us who thought the cast of James Gunn's upcoming The Suicide Squad couldn't get any more stacked were in for a rude yet amazing awakening in November 2020 when the extremely busy filmmaker confirmed on his Instagram that Sylvester Stallone would be appearing in the film in some shape or form. Around the same time, Stallone himself (again, pretty freaking active for a man of his age) made a post on the social media outlet to say how excited he was to be working with Gunn and the rest of the cast and crew on the project.
At this time, it remains to be seen just how Stallone will fit into the movie and how much we'll see of the star of Cobra, Judge Dredd, and Demolition Man. For all we know, it could be something as small yet impactful as Stallone's portrayal of Stakar Ogord in Guardians of the Galaxy Vol. 2, but even that would be like a cherry on the top.
The initial filming of The Suicide Squad got underway in September 2019 and wrapped in February 2020, just a few weeks before the world shut down because of the ongoing public health crisis. In April 2020, James Gunn revealed that the pandemic wouldn't have any impact on the release of The Suicide Squad, going as far as to go on Twitter to say that post-production work was being completed remotely from the safety of the production crew's homes. As it stands, we can still plan on seeing The Suicide Squad, and Sylvester Stallone (in theaters and HBO Max), on August 6, 2021.
Little America - TBD (Announced)
If Sylvester Stallone wasn't busy enough with Samaritan and The Suicide Squad, he has signed on to start in another science-fiction action thriller. In February 2020, The Hollywood Reporter published an article detailing Stallone's Little America that will be distributed around the world once the Rowan Athale-directed production is completed. According to that report, Little America will be set in a dystopian future where American has been transformed into a bankrupt wasteland and a ghost of its former self. Stallone will play a former Army Ranger tasked by an Asian billionaire to find a way into "Little America," a walled-off portion of Hong Kong established by American expatriates. Stallone's character is being sent there to find the man's missing daughter before it's too late.
When Little America was first announced earlier this year, Deadline reported that the film was expected to get underway over the summer, but this was before COVID-19 became the public health crisis we know it as now. The near-universal shutdown over the summer didn't stop Little America's producers, which includes Michael Bay, from securing tax credits to shoot in California, according to L.A. Biz. There haven't been any updates since then, however, and much of the film, its production, and release date remain a mystery at this time.
The Expendables 4 - TBD (Announced)
It's hard to believe that it's already been 10 years since The Expendables first brought the world one of the most stacked casts of action stars of yesterday and today, but the craziest thing is that it's already been six years since we saw the most recent film in the franchise, 2014's The Expendables 3. There have been numerous starts and stops over the years as the team behind The Expendables 4 gets everything together for a worthy sequel in the insane action series, but one of the franchise's stars, former UFC champion Randy Couture, spoke about the long-awaited fourth installment in March 2020, stating that he had seen a script but didn't quite know when things would get moving with the stagnant property.
In the years since the release of The Expendables 3, Sylvester Stallone has gone from working on a continuation to the story to stepping away due to creative differences in 2017 to coming back on the following year. And then there was that whole episode in July 2019 when Stallone claimed to have a flash on inspiration on Independence Day. At this point in time, it remains unclear when exactly the ball will get rolling The Expendables 4, but hopefully it's not too long until we see the final chapter of the franchise.
Demolition Man 2 - TBD (Rumored)
2020 marks the 27th anniversary of the release of the 1993 science-fiction action thriller Demolition Man exploded into theaters with Sylvester Stallone's John Spartan and Wesley Snipes' Simon Phoenix coming out of cryo-sleep to settle a decades-long feud and save what used to be the City of Los Angeles. Stallone is known for bringing back his iconic characters many, many, many years after they were first introduced, earlier this year he let it slip that a Demolition Man 2 could possibly be realer than anyone could have ever thought.
In May 2020, Sylvester Stallone, being a very active social media user, responded to a fan question on Instagram, and pretty much said he was working with Warner Bros. to get something rolling. Now, there are a lot of questions about the possibility of a Demolition Man 2 (and no, not all of them center around the three sea shells), but the most important one figuring out if this is just Stallone having some fun or if this is really happening.
Untitled Rocky Project - TBD (Rumored)
Before there was First Blood and the other Rambo movies, before there was Cobra, and before there was pretty much anything but Death Race 2000, Sylvester Stallone had Rocky. Including the 1976 original about a struggling boxer looking for a chance, there have been a total of seven movies where Stallone has portrayed Rocky Balboa. And while there are still a lot of unknowns about how Stallone's character will fit into Creed III, the Oscar-nominated actor and screenwriter is working on another movie set in the Rocky universe.
Back in July 2019, Sylvester Stallone told Variety there was a good chance that Rocky would "ride again" in a story that would see the former boxer meet a young immigrant stuck in the United States that he ends up training in an attempt to get him off the streets and find a better life for himself. Hopefully that means we get another great speech like in Rocky Balboa. It remains to be seen if anything will ever come of this idea, but there's no such thing as too much Rocky. Well, unless we're talking about Rocky V.
These movies are the only things Sylvester Stallone is working on right now. In addition to the two upcoming 2021 films and those coming later on (fingers crossed on Demolition Man 2), Stallone is also working a director's cut of Rocky IV and there's always a chance he shows back up in the Marvel Cinematic Universe at some point in the future.
Philip grew up in Louisiana (not New Orleans) before moving to St. Louis after graduating from Louisiana State University-Shreveport. When he's not writing about movies or television, Philip can be found being chased by his three kids, telling his dogs to stop yelling at the mailman, or yelling about professional wrestling to his wife. If the stars properly align, he will talk about For Love Of The Game being the best baseball movie of all time.
Your Daily Blend of Entertainment News
Thank you for signing up to CinemaBlend. You will receive a verification email shortly.
There was a problem. Please refresh the page and try again.