Why Disneyland's New Annual Pass Program Is Going To Be Great...Probably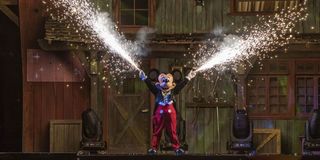 Disneyland Resort was closed for more than a year, and while it reopened with its share of changes due to the pandemic, it made one monumental change during the closure when it ended its Annual Passport system. Although the AP system ending was something made possible by the pandemic, it had been nearly a full year in which people could not use it anyway. Shutting it down gave Disneyland a chance to reevaluate the whole program from scratch, potentially creating something quite different than the old program that might be a better fit. Instead, we got the Magic Key program, which is nearly identical to the original Annual Passport system. It seems that what existed before may be the best available option, although the one big change does leave some lingering questions that could cause problems down the road.
We won't know for sure how the Magic Key Program truly works until the passes go on sale and start being used. However, there's reason to be optimistic that the owners of these keys to the Magic Kingdom will get everything they want, as long as the reservation system works out
Magic Keys Are Remarkably Similar to Annual Passports
In the time between the end of Annual Passports and now, there were a lot of fears that whatever replaced them was going to be vastly different and largely inferior to the program that a lot of people loved. Would people still even have the freedom to visit the parks like they once did, or would there be new limitations set on when and how one could go? Talks of the new program being a "membership" program conjured up images of something totally different than what we knew.
But in the end, the Magic Keys are remarkably similar. There are four different tiers of Magic Keys, just as there were four different Annual Passports available when the park closed in March 2020. One of them is dedicated to people living in Southern California. The top of the line Magic Key option includes zero blackout dates and covers parking, just like the same tier of Annual Passport did. There are discounts for dining and merchandise on par with what the Annual Passports offered as well. Even the calendar of blackout dates for the Magic Keys that have them is largely the same as the last calendar of blackout dates for Annual Passports. Although it should be said that calendar, released the summer of the opening of Star Wars: Galaxy's Edge, was a bit more restrictive than previous years.
Magic Keys Are Cheaper Than Annual Passports... For Now
There are a couple of changes between Annual Passports and Magic Keys, and one of the more noticeable ones is the price. But in this case, that's a good change as the Magic Keys are actually cheaper than the equivalent Annual Passport was in March 2020. The Signature Plus AP, the one giving you the best discounts, free parking and no blackout dates, cost $1,449 on its last day of availability. The Dream Key, which has all the same benefits, is $1399. Lower level Keys are actually more aggressively discounted compared to their predecessors.
The cheaper price won't last forever, of course. Disneyland Annual Passports, like regular ticket prices, saw regular increases over the last few years, and there's no reason to believe that won't happen here. At some point, a year or two from now, prices will be equal to or beyond where Annual Passports were. That's just the way this works. Still, the fact that the Magic Keys are more affordable now is nothing to sneeze at. A lot of people who likely stopped paying for APs because they couldn't justify the price are probably looking at Magic Keys seriously, which is almost certainly the point of the lower price in the first place.
Park Pass Reservations Could Be A Major Stumbling Block
If there's a potential downside to the new Magic Key system, and must emphasize potential since it's too early to tell at this point, it's with the one big difference between the new system and the old: the Park Pass reservations. Magic Key holders will be required to make reservations at whatever parks they want to visit, just like other guests. Depending on which Key they have, they'll be able to hold between two and six reservations at any one time. But there are a couple of potential issues there. that could make Magic Keys less useful than they otherwise might be.
The first issue is the limited number of reservations. You'll be able to book either single park or park hopper reservations with each reservation you have. This means that you may be limited to single parks when you'd rather be jumping back and forth, depending on what reservations are available. Under the old Annual Passport system, park hopping was just part of the deal.
Certainly, after each day, you'll be able to book another day, and you can keep that going ad infinitum assuming reservations are available, but that leads us to the second potential issue. The way Walt Disney World has been handling Park Pass reservations is that they are generally kept in three separate "buckets." One is for Annual Pass holders, one is for those staying on Walt Disney World property and one is for everybody else. The number of reservations available within these these pools is limited, so if enough APs make reservations at a given park on a given day, other APs won't be able to make reservations, even if the park is not full and other guests not using annual passes can still make reservations.
When that happens at Disney World, we frequently see reservations shuffled around every so often. Some capacity is taken from a pool that has a lot left over and it's used to give more access to the group that's filling up, but there's no telling when, or if, that reshuffling will happen, which could potentially make scheduling your visit more complicated.
If guests try to make reservations for days that aren't blacked out, but can't because no reservations are available, it will be a problem. If it happens a lot, it could become a big problem. Disney's CEO has said in the past on a per person basis, Annual Pass holders spend less money in the parks than normal guests. If you're there a lot, you have less need to drop big bucks, you've done it all before. With that the case, there's a potential financial incentive to limit Magic Key entry if it means leaving the door open to more regular guests.
Now again, it should be stated that this isn't necessarily going to be a problem. When Disneyland Resort is able to welcome 100% of the guests it can handle, it rarely fills a park to capacity. This means that it's entirely possible there will rarely be days that there are no Magic Key reservations to be had. And considering that the days where max capacity does happen, often during the holiday season or in the heart of the summer, many Magic Keys will be blacked out anyway, it's likely to be even less of a problem, but it's still something to be on the lookout for.
On the whole, the new Magic Key program looks pretty good, and if the reservation issue is managed well by the park, it may end up being no problem at all. When the Magic Keys go on sale August 25 and start being used, we'll start to see how it really works. There are likely to be some hiccups and growing pains, but as those issues are addressed there's every reason to believe that those looking to spend more time at the happiest place on Earth will be able to do so, and that will hopefully make them happy indeed.
CinemaBlend's resident theme park junkie and amateur Disney historian. Armchair Imagineer. Epcot Stan. Future Club 33 Member.
Your Daily Blend of Entertainment News
Thank you for signing up to CinemaBlend. You will receive a verification email shortly.
There was a problem. Please refresh the page and try again.