Would Casino Royale's Director Helm Another Bond Movie Following No Time To Die? Here's The Latest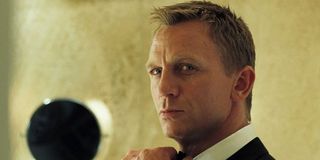 No Time To Die, the final James Bond film starring Daniel Craig, is gearing back up for its release after numerous delays due to the global pandemic and has shared some thrilling new footage. The 6th Craig Bond film has been described as a perfect bookend to the story that started with Casino Royale in 2006. Casino Royale was the perfect starting point for Craig as James Bond and set a strong base for the movies that would follow. Could Casino Royale's director helm another Bond movie following No Time To Die?
Martin Campbell, director of Goldeneye starring Pierce Brosnan and Casino Royale, recently did a Reddit AMA where he answered various questions from fans. Campbell kicked off a new series of Bond movies with Daniel Craig, and was asked if he would ever consider doing another Bond movie. Campbell answered honestly, saying:
Martin Campbell says he loves the franchise and would, of course, be interested in returning. The director got to work with two different Bonds in Pierce Brosnan and Daniel Craig, and if he were to return to the franchise, he would be working with a new James Bond once again. Casino Royale was the perfect introduction for Craig's Bond and is still one of the most beloved of the Craig Bond movies. If it has anything over the other films, it's the brutal and infamous scene that featured a naked Daniel Craig that everyone remembers vividly.
Martin Campbell is promoting his new film The Protégé, an upcoming action spy thriller the director is adept at making, starring Maggie Q, Samuel L. Jackson, and Michael Keaton. Campbell's mark on the Bond franchise can't be understated, and it will be exciting to see if he ever returns to direct a new Bond film with a brand new actor playing James Bond.
The Daniel Craig Bond films have largely been critically acclaimed. Even those that miss the mark are still redeemable and worth revisiting, especially Spectre, which has gotten a bad rep but I feel might be better than you think. The Craig Bond films have an incredible and in-depth story weaved throughout the franchise since Casino Royale, and No Time To Die is set to bring it to a satisfying close.
The first of the Daniel Craig Bond movies, Casino Royale and Quantum of Solace, are still available on Netflix until August 30th, so watch them while you can. No time To Die is set to release in October finally, and after numerous delays, fans will finally be able to see the Daniel Craig send-off.
Your Daily Blend of Entertainment News
Movie and TV obsessive. A good Heist movie is the way to my heart. Enjoyer of everything from Marvel Movies to Rom-coms.
Your Daily Blend of Entertainment News
Thank you for signing up to CinemaBlend. You will receive a verification email shortly.
There was a problem. Please refresh the page and try again.