Emily Blunt Has All The Sick Burns In New Jungle Cruise Interview Outtakes, But Dwayne Johnson Totally Loves It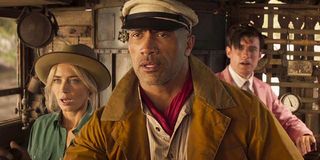 Emily Blunt and Dwayne "The Rock" Johnson's hit film Jungle Cruise has captivated audiences with an incredible adventure and fantastic chemistry between its two stars. The Rock recently sent out a message of thanks to the fans who have shown up to theaters to support the film despite the ongoing pandemic, and Jungle Cruise has done decently despite the odds. Blunt and Johnson have shown off their chemistry on and off-screen while promoting the movie, revealing gems like the actress' hilarious nickname for The Rock. Now, she has all the sick burns in new Jungle Cruise Interview outtakes, but her co-star totally loves it.
Press junkets for new films are usually a lot of fun for viewers, and the Jungle Cruise interviews have been an endless supply of clips of Emily Blunt and Dwayne Johnson being hilarious. Even in a pandemic where things are unusual due to health and safety protocols, it's still been very successful, and fans have loved the film stars extracurricular activities promoting the new Disney flick. New interview outtakes, in fact, show off Blunt's sense of humor, and there's an Instagram post from The Rock to prove it:
We see the two in the video exchanging playful and hilarious jokes that were outtakes from various interviews the pair did for Jungle Cruise. The Rock does well, but Emily Blunt steals the show with her jokes about protein breath, Johnson learning "acting" as his biggest challenge on the film, plus the general way she made The Rock peel over with laughter throughout the video. The two obviously had a good time working together, and it shows.
The Rock loved the video and sent out a long message to go with it, highlighting that he's never worked with someone who made him laugh as hard as Emily Blunt. There will never be a press junket that compares to the Jungle Cruise one in his eyes. Their chemistry is the main takeaway from Jungle Cruise, and it has me wanting to see the pair on-screen again.
After Jungle Cruise, it seems Emily Blunt will be heading to Amazon for her next film, where she will play an investigator in the 19th century in a production produced by her co-star! And of course, The Rock has Black Adam and a slew of other upcoming movies coming up. Hopefully, we see Emily Blunt and The Rock on-screen together again in the future, and maybe it will even be in a live-action Toy Story, an idea the pair had fun with. Until then, Jungle Cruise will is still there to rewatch Emily Blunt and Dwayne Johnson's epic adventure.
Movie and TV obsessive. A good Heist movie is the way to my heart. Enjoyer of everything from Marvel Movies to Rom-coms.
Your Daily Blend of Entertainment News
Thank you for signing up to CinemaBlend. You will receive a verification email shortly.
There was a problem. Please refresh the page and try again.