David Ayer Thanks Fans For Support After An Overwhelming Amount Of People Called For His Suicide Squad Cut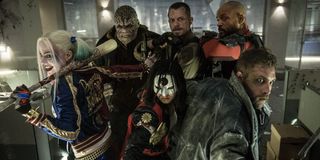 Fans are loving James Gunn's take on The Suicide Squad, and as it stands, it's critically one of the highest-rated DCEU films. The new and improved The Suicide Squad has been a success (on that front at least), but the director behind 2016's much-maligned Suicide Squad wants justice for his own film. David Ayer has been very passionate about his work on Suicide Squad. He has advocated for releasing his original cut of the film that the studio heavily altered, resulting in the movie not working as intended. DC fans have shown an outpouring --like huge outpouring -- of support for Ayer and his Ayer Cut vision, and now the Suicide Squad director has thanked them for supporting his call to get his cut of the film released.
Like The Justice League and The Snyder Cut, the original cut of Suicide Squad was reportedly changed by Warner Bros., resulting in what David Ayer has said his ultimate vision of the film was distorted into the panned film that was released into theaters. James Gunn's The Suicide Squad has helped the recent push for David Ayer's original vision to get its due, an important issue for fans as they've rallied behind the director and call for a new cut of the film. David Ayer has sent out a heartfelt message thanking fans for the support he and his original vision have received on Twitter:
David Ayer celebrated #ReleaseTheAyerCut reaching over 400 thousand tweets, and thanked the fans punching for his movie in a touching message. David Ayer's passion has rallied many fans to his cause. They hope to achieve something similar to what happened with The Snyder Cut finally getting released on HBO Max, so the director's true vision for the film is finally showcased the way it was meant to be.
David Ayer has been sharing some differences between his vision and the things left out in the film's theatrical release, like Margot Robbie's Harley Quinn and Will Smith's Deadshot sharing a kiss. Ayer has been adamant about his original cut of Suicide Squad being mature and focused on its characters most of all. There seems to have been so much context and character development that was later abandoned in the studio cut of the DC flick. The idea behind #ReleaseTheAyerCut is interesting, and many DC fans would love to see it.
The Suicide Squad star John Cena has voiced his opinion about releasing David Ayer's true version of Suicide Squad, saying that listening to your audience might not be a bad idea. Clearly, with the number of tweets, the audience support is there, but it's up to the studio to decide if they want to give in to the pressure once again. (It's worth noting, for example, that the Snyder Cut's HBO Max numbers may not have been what DC and Warner Bros. were hoping with the rerelease.) We'll have to wait and see, but as the Snyder Cut does illustrate, stranger things have happened.
With growing support, there is still a chance David Ayer and his fans could get their wish one day. What is clear? The freedom that James Gunn was allowed to operate with while directing The Suicide Squad has only bolstered the desire for Ayer's unaltered Suicide Squad cut. Now, the fight for Ayer's vision doesn't look like it will die down anytime soon.
Your Daily Blend of Entertainment News
Movie and TV obsessive. A good Heist movie is the way to my heart. Enjoyer of everything from Marvel Movies to Rom-coms.