5 Ways The DCEU Can Finally Spotlight Robin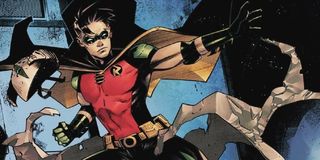 (Image credit: (DC Comics))
The Bat-Signal is shining bright these days amongst Warner Bros' upcoming DC movies. Robert Pattinson is set to play the Caped Crusader for The Batman along with Ben Affleck and Michael Keaton finding roles in The Flash, which is set to soon open up the DC multiverse. But what about Robin? Bruce Wayne's famed sidekick is a fan-favorite name in the comics and has taken many forms over the years. It feels like it's time to bring the character back to the big screen, and we have a few ideas as to how the DCEU should do it.
The last time we saw a version of Robin in a live-action Batman movie was technically in 2012, when Christopher Nolan introduced Joseph Gordon-Levitt's John Blake, whose legal name was revealed as Robin at the very end of the movie. And before that, the character was in 1997's Batman & Robin, which saw Chris O'Donnell reprising the role alongside George Clooney's Batman. It's about time Robin gets a truly great adaptation, don't you think? Here's some ways that the DCEU can finally spotlight Robin.
Matt Reeves' The Batman Introduces Robin To His Movies
One way Robin could make his first big-screen introduction in years is through Matt Reeves' The Batman universe, which we'll see unfold in early 2022. Based on what we know about the movie so far, it won't be taking place in the same universe as the rest of the DCEU. This noir world will be more gritty and lean into a noir aesthetic. The film will introduce Robert Pattinson's version of Bruce Wayne, along with Zoe Kravitz's Catwoman, Jeffrey Wright's James Gordon, Paul Dano's Riddler, Colin Farrell's Penguin and Andy Serkis' Alfred Pennyworth.
Because of The Batman's packed cast and Robert Pattinson playing a younger Dark Knight, we don't expect to see Robin in the upcoming movie. However, if Reeves' film gets itself a sequel, this could be a great world for Robin to enter into and assist the Caped Crusader. Perhaps Dick Grayson would be the move here, adapting Robin: Year One just as The Batman will get into a younger Batman. Oh, and Cobra Kai's Tanner Buchanan sounds down to play the character.
Ben Affleck's Robin Shows Up In The Flashpoint Storyline
Now this one is a bit complicated. We know Ben Affleck is going to return to play Batman in The Flash, which will chronicle multiverse storyline that also includes Michael Keaton's Batman. This could also be a good place for the DCEU to bring in Robin, especially after Batman v Superman: Dawn of Justice hinted at a tragic end for Affleck's version of the sidekick. In contrast to Pattinson's version, Affleck is a seasoned Batman who lost Robin at the hands of The Joker and is still grieving his loss when he meets Henry Cavill's Superman.
We saw that shot of Robin's suit on display with the writing "Joke's on you" across its chest, hinting at his death by Joker's hands. There's been a myriad of theories over the years about what happened, but we never got to see the actual Robin backstory go down and unfold. Perhaps in The Flash or a subsequent film, this story could be told. Working with the Flash means time knows no bounds too, so we could meet Robin before his death. But what might be more interesting is the Under The Hood storyline. When Affleck was developing the screenplay for his Batman before his plans fell through, it was reportedly adapted from this storyline, which is about a long-dead Jason Todd coming back to life as the Red Hood.
The DCEU Adapts A Standalone Nightwing Storyline
The most straightforward out of these Robin ideas is likely a Nightwing movie that The Tomorrow War director Chris McKay was once attached to and told CinemaBlend in June that he hopes is "still a reality." He shared that he thinks it's more possible now than ever before, whether that be in an "alternate universe" and such.
Nightwing has been adapted on Titans, but it'd also be cool to see the character hit the big screen with his own movie. Classically, it's Dick Grayson who becomes Nightwing as an adult after spending his teen years as Robin, and he often operates in Gotham's neighboring city of Blüdhaven. Later, Grayson takes on the Batman mantle after Bruce Wayne's death. It's an exciting storyline with a lot of potential and would truly give fans of the character a long overdue movie.
Tim Drake And Stephanie Brown Get An HBO Max Series
As much as we'd love to see Robin on the big-screen first and foremost, Warner Bros is also expanding its comic book characters to HBO Max as well, such as with John Cena's Peacemaker getting a series. One version of Robin that might be suited for television format is Tim Drake, who witnessed the death of Dick Grayson's parents, deduced the identities of Batman and Robin, and trained himself to become the third Robin at the age of 13.
It would be interesting to explore Tim Drake's Robin along with his relationship with fellow Robin, Stephanie Brown, also known as Spoiler. The pair become romantically involved and could be interesting characters for an HBO Max series to explore. Tim Drake has recently been introduced in Season 3 of Titans.
Damian Wayne Gets His Twisted Origin Story Adapted
If Warner Bros really wanted to go out of left field and adapt a unique version of Robin, they could go for telling the story of Damian Wayne. The character is a genetically engineered son of Bruce Wayne and Talia al Ghul (the daughter of Batman villain Ra's al Ghul). He was raised by the League of Assassins and then revealed to Bruce as his son in an effort to disrupt his work. Damian is a misguided Robin to Batman, but provides an interesting and fresh spin of the Batman and Robin dynamic we've yet to see on screen.
There are a lot of unique options here that could really shake up the DCEU. Robin is an exciting character who could be so much more than Batman's sidecar rider if Warner Bros spent some time to fit him into its continuity. Which of these Robin ideas do you like the most? Vote in our poll below and check out what upcoming DC movies are coming our way.
This poll is no longer available.
Your Daily Blend of Entertainment News
YA genre tribute. Horror May Queen. Word webslinger. All her writing should be read in Sarah Connor's Terminator 2 voice over.