Krysten Ritter Is All Blue Hair, Don't Care In New Netflix Nightbooks Trailer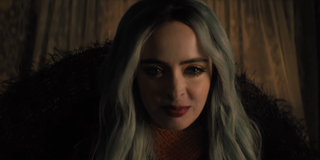 Netflix is on a pretty good run of original movies lately. Beckett starring John David Washington was an entertaining thriller and the Jason Momoa-led Sweet Girl is another throwback to action thrillers of the past. Now we have the first trailer for Netflix's upcoming horror/fantasy film Nightbooks, starring Krysten Ritter-- and it looks like the perfect blend of Goosebumps and Hocus Pocus. Produced by Sam Raimi, director of Evil Dead, Nightbooks trailer has a classic horror vibe that looks kid-friendly. Well, as kid-friendly as a witch threatening to kill you over and over can be.
Nightbooks follows a young boy named Alex (Winslow Fegley), who is obsessed with scary stories, and stumbles into a weird apartment that belongs to a witch (Krysten Ritter.) Alex is captured by the witch and finds out he can't escape from the apartment due to its enchanted nature and is forced to write a new scary story every night or the witch will kill him. Alex teams up with the witch's servant Yasmin (Lidya Newett), and the two try to find a way out of the witch's apartment and escape certain death.
Nightbooks is an adaption of the novel of the same name by J.A. White, with David Yarovesky of Brightburn fame directing the film. The film has all the makings for a big hit on Netflix as it appeals to kids as well as adults. It honestly looks pretty scary, and if I was the age of the characters in the film and I saw this trailer, I would probably be too frightened to watch it. Stylistically the film looks like a real treat, and the fantastical vibe of the apartment makes for a great setting.
Krysten Ritter looks like she is relishing playing the villain. Her blue hair and long stylish nails make for a visually striking villain for the two children she's going to be terrorizing in the film. Ritter is formerly the star of Jessica Jones, one of Netflix's ill-fated Marvel TV shows that had a ton of characters that we wish would come back to the MCU-- Jessica included. Nightbooks looks like another excellent showcase for Krysten Ritter, once again working with Netflix following the Breaking Bad streaming movie El Camino and her show Jessica Jones.
There's no release date for Nightbooks just yet, but it's safe to assume it will release relatively soon. Netflix releases trailers for movies, and they come out relatively quickly, typically a few weeks and Nightbooks looks like the perfect movie for Halloween, so a release close to the spooky holiday makes a lot of sense. Nightbooks looks fun and surprisingly scary, and we cant wait to see more from Krysten Ritter and her enchanted apartment.
Movie and TV obsessive. A good Heist movie is the way to my heart. Enjoyer of everything from Marvel Movies to Rom-coms.
Your Daily Blend of Entertainment News
Thank you for signing up to CinemaBlend. You will receive a verification email shortly.
There was a problem. Please refresh the page and try again.