Beethoven: 5 Reasons The Charles Grodin Family Dog Movie Is Even Better As An Adult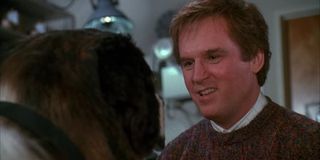 I watched Beethoven all the time growing up. Whether it was at home or at a friend's sleepover, I would never pass up the opportunity to watch Charles Grodin freak out and battle with his family over a St. Bernard. But over the years, I stopped watching the 1992 family dog movie and essentially forgot about it.
That all changed when I had kids of my own and watched Beethoven. One family movie night I decided to pop it on and show my kids one of my favorite movies when I was their age. And while I enjoyed the movie as much as a 30-something as I did when I was in grade school, this time was different. There was just something about watching Beethoven as an adult that just hit harder and gave me a greater appreciation of the movie. Here are a few reasons why…
Watching Beethoven As An Adult, You Realize George Newton Isn't A Bad Person, Just Stressed Out
When I used to watch Beethoven as a kid I used to see George Newton (Charles Grodin) as not necessarily the villain of the movie (that's reserved for Dean Jones' Dr. Herman Varnick), but an adversarial character when it comes the whole idea of welcoming a dog into the house. I mean, who doesn't want a family dog for all kinds of adventures? Well, as a father of three and dog owner, I've come to understand that George isn't a bad person, he's just a stressed-out, neurotic mess of a man.
With all these stressors in his life — running a business, paying the bills, raising three children, being a functioning member of society — it's easy to see why George Newton wouldn't want to add another level of stress to his already chaotic existence. And while this in no way excuses George for trying to get rid of Beethoven and even being conned into the handing him over to Dr. Varnick, it's easy to see just how stressed out and beaten down he is leading up to his breaking point. I get you, George, and I feel your pain.
Also, You Truly Appreciate The Greatness Of Charles Grodin's Performance
There is something that has to be said about Charles Grodin's performance in Beethoven in that he added way more to the role of George Newton than was required. And yeah, there are a ton of over-the-top moments (like the great "Change Your Pants" scene), but Grodin makes each and every one of them work. For example, when Emily Newton (Sarah Rose Karr) brings in a young Beethoven, Grodin makes this face as the camera zooms in really close that is just the perfect amount of rage, confusion, and fear, all wrapped in one subtle package.
4It also doesn't hurt that I have become obsessed with Charles Grodin over the years thanks to his performances in movies like Dave and Midnight Express (I even made chorizo and eggs for dinner when Grodin passed away in 2021).
Alice Newton's Subplot About Getting Back Into The Workforce Adds A Lot Of Depth To Beethoven
Throughout Beethoven, Alice Newton (Bonnie Hunt) is the voice of reason, sees the big picture, and is the super-adhesive glue that keeps the family together. This is best shown with her subplot about getting back into the workforce after spending the past few years as a stay-at-home mom. You can see in Hunt's performance that the mother of three struggles with her decision because both options have pros and cons (stay at home and not help George expand his company; go back to work and not be there for the kids).
This subplot reaches its most intense moment when Alice Newton leaves her kids with Devonia Peet (Laurel Cronin), the irresponsible babysitter too preoccupied singing show-tunes than watching Emily when she falls in the pool and nearly drowns. The incident helps Alice make her final decision that family is more important.
Bonnie Hunt And Charles Grodin Actually Feel Like A Married Couple
Even though Bonnie Hunt and Charles Grodin were two actors with families of their own when filming Beethoven, they actually feel like a married couple throughout the movie, and that adds a whole other level to the movie when watching it as an adult. There are multiple examples of this throughout the movie, but there are two that really drive home this point.
First, there's the aforementioned "change your pants" scene after Beethoven drools all over George Newton's pants before a big business meeting. As George is walking up the stairs yelling about how he is going to have to change his jacket, shirt, tie, belt, shoes, and pretty much every other article of clothing because of the ruined pants, Alice stands there, the voice of reason, and tells him to just change his pants. It shows that Alice is the more grounded and calm one in the relationship and it comes off like she'll been in this position before.
Then there's the scene immediately following the failed business meeting that ends after Beethoven took the Wilsons (David Duchovny and Patricia Heaton) for a ride. Outside and out of view of the kids (or so they think), Alice and George have this tense and emotional conversation about the business expansion, Beethoven, and the family in general. After George talks about his dream going down the drain because of the dog, Alice comes in with a haymaker about her husband being worried about a dream when his family is going down the drain.
Beethoven Is About The Importance Of Being True To Yourself And Your Family
At the end of the day, Beethoven is a movie that stresses the importance of being true to yourself and your family no matter how that may be. Alice Newton, who is pretty much the hero of the movie in addition to being its moral center, knows this all too well during the previously mentioned conversation with George and then again when she convinces her husband to stand up for his family before confronting Dr. Varnick in the final act.
Throughout the movie, Alice knows the Wilsons are full of it and aren't looking out for the best interest of the Newton family company with their business proposal and tells her husband to not trust them, and rightfully so. She does this later on with the Varnick situation, and is right once again. It's not that she teaches George how to be a better and more considerate person but she does help guide him along the way and helps him learn the meaning of family. Well, Beethoven has a hand, err paw, in that too.
Bonus: The Beethoven Cast Is Stacked
Oh, one more thing… The Beethoven cast, even outside of the core group, is full of great actors who had done a lot before the movie or were well on their way to becoming some of Hollywood's greatest thespians. Watching Beethoven as a kid, I thought Dr. Varnick's two goons were funny and all, but watching the movie later on I found it all the more enjoyable when I realized that Stanley Tucci and Oliver Platt were playing those roles. And there's also that blink-and-you-will-miss-it appearance by Joseph Gordon-Levitt, which he once pointed out in a tweet.
Overall, Beethoven is one of those movies that deserves a rewatch as an adult as there is so much that either went over your head a a kid or simply forgot about. And while there aren't any Beethoven sequels in the works, there are still plenty of great 2021 movie premiere dates worth checking out.
Your Daily Blend of Entertainment News
Philip grew up in Louisiana (not New Orleans) before moving to St. Louis after graduating from Louisiana State University-Shreveport. When he's not writing about movies or television, Philip can be found being chased by his three kids, telling his dogs to stop barking at the mailman, or yelling about professional wrestling to his wife. If the stars properly align, he will talk about For Love Of The Game being the best baseball movie of all time.