The Last Milestone Director On Honoring Olympian Eliud Kipchoge In New Documentary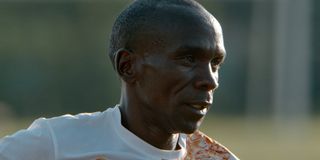 A cinematic biopic of legendary long-distance runner and world record marathon holder Eliud Kipchoge titled Kipchoge: The Last Milestone is available On Digital August 24. This portrait of Kipchoge joins him as he prepares for his successful attempt to break the two-hour marathon mark and leave his place in the history of athletics. The film also unveils fascinating details of reaching this milestone.
This documentary of Eliud Kipchoge's journey to run a marathon in under two hours is a love letter to the sport, elevating running into popular culture. Kipchoge: The Last Milestone is clear that Kipchoge is a self-disciplined man and for him, success began with a belief. I got the chance to sit down with director Jake Scott who said the following of honoring the olympian:
Throughout Kipchoge: The Last Milestone, Eliud Kipchoge repeats the message: No human is limited. He didn't set out to break a record for glory or just to say that he did it, but to push the boundaries of human ability and show others that we are capable of so much more. Director Jake Scott beautifully captures this message in the film. Many who know Kipchoge were interviewed as part of the film, from friends and family to coaches and other runners, and it's clear from hearing them speak about him just how humble this man is and how much he's touched the lives of all he's come into contact with.
Eliud Kipchoge is proof that when faced with challenges, believing that we can overcome them is often our hardest hurdle. Once that initial step is taken, we can be unstoppable. See how Kipchoge achieves simplicity of thought and usefulness of mind in a world of chaos and complexity in Kipchoge: The Last Milestone, available digitally August 24.
Obsessed with Hamilton and most things Disney. Gets too attached to TV show characters. Loves a good thriller, but will only tolerate so much blood.