She's All That: What The Actors From The 1999 Movie Are Doing Now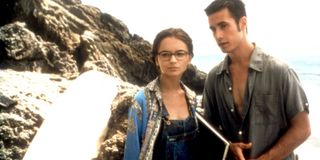 This weekend, audiences can see a retelling of a familiar tale with Netflix's He's All That, a modernized remake of 1999's well-liked teen rom-com, She's All That. Though the movie received mixed reviews from critics, it earned a wide audience, becoming one of the most popular teen flicks of the '90s, thanks to the endearing chemistry shared between Freddie Prinze Jr. and Rachael Leigh Cook. In a cast that includes several famous faces, including Gabrielle Union, Kieran Culkin, Anna Paquin, and the late Paul Walker, it's easy to wonder what the A-list ensemble has been up to for the past 20-plus years. That's where we can help! Here's what the She's All That cast is doing right now.
Freddie Prinze Jr. (Zachary "Zack" Siler)
As Zachary "Zack" Siler, the high school hotshot who boasts that he can turn any random girl into the Prom Queen, Freddie Prinze Jr. played a handsome hunk in 1999's She's All That. He also starred in I Know What You Did Last Summer, I Still Know What You Did Last Summer, and Summer Catch. Additionally, Prinze Jr. played Fred Jones in Scooby-Doo and Scooby-Doo: Monsters Unleashed. The actor's other credits include The House of Yes, Down to You, Boys and Girls, Head Over Heels, and Brooklyn Rules.
Additionally, on TV, Freddie Prinze Jr. starred in or played recurring roles in 24, Boston Legal, and Freddie, where he also served as a producer and creator. Outside of acting, Prinze Jr. hosted USA Network's First Impressions and he was a host and creative consultant on WWE Raw. Furthermore, Prinze Jr. lent his voice to Disney XD's Star Wars Rebels. Earlier this year, the television actor starred in Peacock's Punky Brewster, which was canceled. Prinze Jr. was also recently heard in Disney+'s Star Wars: The Bad Batch.
Rachael Leigh Cook (Laney Boggs)
In the role of Laney Boggs, a nerdy, bespectacled art student who becomes the subject of two boys' dare to turn a random girl into the Prom Queen, Rachael Leigh Cook was the star of She's All That. She's also known for playing the titular Josie McCoy in Josie and the Pussycats. Additionally, Cook starred in The Baby-Sitters Club. Her other film credits include The House of Yes, Tom and Huck, Blow Dry, and Nancy Drew. Also, Cook can be seen in Get Carter, Carpool, Living Out Loud, Texas Rangers, 11:14, Tangled, A Midsummer's Nights' Dream, and several direct-to-video films. Moreover, the actress is heard in Final Fantasy VII: Advent Children and Batman Beyond: Return of the Joker.
Additionally, on TV, Rachael Leigh Cook starred in TNT"s Perception. She also played recurring roles in Dawson's Creek, Las Vegas, and Psych. Furthermore, Cook starred in Hallmark's Frozen in Love and Autumn in the Vineyard. Last year, she headlined Love, Guaranteed and Cross Country Christmas. This year, Cook could be seen in Film Fest. Also, most recently, the film actress was given a sizable supporting role in He's All That.
Matthew Lillard (Brock Hudson)
Playing the part of Brock Hudson, a crude, lewd reality TV star who starts dating Zack's ex, Matthew Lillard is a wild-and-out guy in 1999's She's All That. Most notably, Lillard played Shaggy Rogers in Scooby-Doo and Scooby-Doo 2: Monsters Unleashed. He has also voiced the character in several animated films, notably after Casey Kasem retired from the part. His other film credits include Scream, SLC Punk!, Summer Catch, Without a Paddle, The Descendants, Trouble with the Curve, The Groomsmen, and Looney Tunes: Back in Action. Moreover, Lillard acted in and directed Fat Kid Rules the World.
Additionally, on television, Matthew Lillard was praised for his performance as William Hastings in Showtime's Twin Peaks: The Return. He can also be seen in Bosch, Halt and Catch Fire, and The Bridge. Furthermore, Lillard is heard in Robot Chicken, Beware the Batman, and All Hail King Julien. Most recently, he appeared on NBC's Good Girls, and he played Principal Bosch in Netflix's He's All That. Next, Lillard will star in One Heart.
Jodi Lyn O'Keefe (Taylor Vaughan)
As Taylor Vaughan, Zackary's deeply narcissistic ex-girlfriend, Jodi Lyn O'Keefe played a cold-hearted character in She's All That. Away from this popular film, the actress is also recognized from Halloween H20: 20 Years Later. O'Keefe's other film credits include The Crow: Salvation, Whatever It Takes, Frozen Ground, Devil in the Flesh 2, Soul Fire Rising, Venice Underground, The Scare Hole, Merry Ex-Mas, and 2018's Edge of Fear.
Additionally, on TV, Jodi Lyn O'Keefe gained prominence as Cassidy in CBS's Nash Bridges. She's also known for her starring roles in Prison Break, Hit the Floor, and The Vampire Diaries. Furthermore, O'Keefe had recurring roles in Boston Legal, Another World, Two and a Half Men, and The Evidence. She was last seen on Legacies in 2018.
Kevin Pollak (Wayne Boggs)
In the role of Wayne Boggs, Laney's unsophisticated father, Kevin Pollak is a real schlub in 1999's She's All That. He has appeared in several notable films throughout his career, including A Few Good Men, Grumpy Old Men, Grumpier Old Men, The Usual Suspects, Casino, Wayne's World 2, That Thing You Do!, The Whole Nine Yards, The Wedding Planner, and L.A. Story. Additionally, on TV, Pollak plays Moishe Maisel in Amazon Prime's The Marvelous Mrs. Maisel. He also provided recurring roles in Mom, Better Things, Shark, Coming of Age, Morton & Hayes, The Drew Carey Show, and Billions.
Furthermore, Kevin Pollak is a renowned impressionist and he hosted the podcast Kevin Pollak's Chat Show for over a decade. He's also the director of 2015's Misery Loves Comedy and 2016's The Late Bloomer. Next, Pollak will appear in FX's American Crime Story: Impeachment. He was also recently in Notorious Nick. Additionally, Pollak will be seen in 4 Kings and Hypnotized and heard in Injustice: Gods Among Us!: The Movie.
Usher (Campus DJ)
Playing the part of Campus DJ, the life of the party, Usher received one of his first film roles in She's All That. The actor's other credits include The Faculty, Light It Up, Killers, In the Mix, Geppetto, Texas Rangers, Scary Movie 5, Muppets Most Wanted, Hands of Stone, Popstar: Never Stop Never Stopping, Burden, Hustlers, and Incredibles 2. Most notably, Usher is a chart-topping singer-songwriter with several best-selling CDs — including his 1994 self-titled album, My Way, 8701, Confessions, and Here I Stand.
Confessions, in particular, turned the artist into a major talent, having sold over 80 million records. Most recently, Usher appeared in Hulu's Bad Hair. As a musician, Usher collaborated with Zaytoven on 2018's A. Later this year, he'll release Confessions 2.
Kimberly "Lil' Kim" Jones (Alex Chason Sawyer)
As Alex Chason Sawyer, a member of Taylor's inner circle, Kimberly Jones, i.e. "Lil' Kim," made her feature film debut in 1999's She's All That. Her other film credits include Juwanna Man, Gang of Roses, Zoolander, Longshot, You Got Served, Those Who Walk in Darkness, and Superhero Movie. Most notably, Lil' Kim is a best-selling rapper with several chart-topping albums to her name, including Hard Core, The Notorious K.I.M., La Bella Mafia, and The Naked Truth. Following an extended absence, the musician released her long-awaited fifth album, 9, in 2019. Furthermore, Lil' Kim starred in reality TV shows like BET's Lil' Kim: Countdown to Lockdown and VH1's Girls Cruise. She was also a contestant on Dancing with the Stars and made appearances on Moesha, American Dreams, The Game, and DAG. Additionally, Lil' Kim is known for her striking, adventurous, and often fabulous style, and she has been considered a fashion icon.
Anna Paquin (Mackenzie "Mac" Siler)
In the role of Mackenzie "Mac" Siler, Zackary's sister who gives Laney her big makeover, Anna Paquin had a notable supporting part in She's All That. Most notably, Paquin won an Oscar for her supporting turn in The Piano, her acting debut. She's also known for playing Rogue in the X-Men movies. Additionally, Paquin starred in Fly Away Home, Margaret, A Walk on the Moon, The Parting Glass, and Tell It to the Bees. She's also seen in Almost Famous, Finding Forrester, 25th Hour, The Squid and the Whale, Trick 'R Treat, and The Irishman. Furthermore, Paquin can be heard in The Good Dinosaur.
Furthermore, on TV, Anna Paquin won a Golden Globe for her lead role in HBO's True Blood. She was also Emmy nominated for HBO's Bury My Heart at Wounded Knee and starred in Amazon's Flack. Most recently, Paquin was seen in the streamer's Modern Love. Next, she's slated to appear in American Underdog, and she's filming True Spirit.
Kieran Culkin (Simon Boggs)
Playing the part of Simon Boggs, Laney's little brother, Kieran Culkin is a real stinker in 1999's She's All That. Most notably, Culkin was Emmy-nominated for his standout performance as Roman Roy in HBO's Succession. Previously, the television actor played Rye Gerhardt to wide acclaim in FX's Fargo Season 2. Additionally, Culkin led NBC's short-lived Go Fish, and he appeared in NBC's The Magical Legend of the Leprechauns.
Furthermore, outside of television, Kieran Culkin played Jason "Igby" Slocumb, Jr. in Igby Goes Down. He's also known for Scott Pilgrim vs. The World, the Home Alone films, and the Father of the Bride movies. His other film credits include It Runs in the Family, The Dangerous Lives of Altar Boys, Lymelife, Wiener-Dog, Movie 43, Margaret, The Cider House Rules, and The Mighty. Recently, Culkin reprised his role as Matty Banks in Father of the Bride, Part 3(ish). Most recently, the actor was seen in HBO Max's No Sudden Move. Next, Culkin will play Roman Roy in Succession Season 3.
Gabrielle Union (Katarina "Katie" Darlingson)
As Katarina "Katie" Darlingson, one of Taylor's best friends, Gabrielle Union made her feature film debut in She's All That. Only one year later, the actress found her breakout role in 2000's Bring It On. Union also starred in Deliver Us From Eva, The Brothers, Daddy's Little Girls, Bad Boys II, Cradle 2 the Grave, Top Five, Cadillac Records, City of Angels, Almost Christmas, Sleepless, Breaking In, and the Think Like A Man movies. Her other notable film credits include Love & Basketball, 10 Things I Hate About You, Two Can Play That Game, Breakin' All The Rules, Running with Scissors, and Girls Trip.
Additionally, on TV, Gabrielle Union played the title role in BET's Being Mary Jane. She also starred in Spectrum's L.A.'s Finest, which was canceled this past October. Union previously had recurring roles in FlashForward, 7th Heaven, and Night Stalker. Next, she'll star in Disney+'s Cheaper by the Dozen, The Perfect Find, and The Inspection.
Paul Walker (Dean Sampson Jr.)
In the role of Dean Sampson Jr., Zackary's friend who challenges him to the dare, Paul Walker received one of his biggest parts in She's All That. Most notably, following his supporting turn in this high school rom-com, Walker played Brian O'Conner in several Fast & Furious movies. He also starred in Joy Ride, Running Scared, Into the Blue, Eight Below, Meet the Deedles, The Death and Life of Bobby Z, The Lazarus Project, Takers, and The Skulls. Additionally, away from the big screen, Walker could be seen in Throb, The Young and the Restless, and Who's the Boss? Quite tragically, in late 2013, the movie star was involved in a fatal car crash. He was only 40. Walker posthumously starred in Brick Mansions, Hours (which he also executive produced), and Furious 7.
She's All That is available to rent on Amazon.
Will is an entertainment writer based in Pittsburgh, PA. His writing can also be found in The Playlist, Cut Print Film, We Got This Covered, The Young Folks, Slate and other outlets. He also co-hosts the weekly film/TV podcast Cinemaholics with Jon Negroni and he likes to think he's a professional Garfield enthusiast.
Your Daily Blend of Entertainment News
Thank you for signing up to CinemaBlend. You will receive a verification email shortly.
There was a problem. Please refresh the page and try again.