John Cena Responds To Viral Dave Bautista Comment About Not Working With Him Or The Rock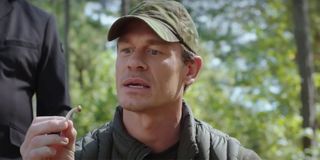 Earlier this summer, former WWE star turned actor Dave Bautista raised some eyebrows when he said he wasn't interested in working with Dwayne The Rock Johnson or John Cena. After the story ran around a bit, he followed up with a social media post saying it was nothing personal and seemed to imply it was because he was trying to play as many different types of characters as possible. The comments left a poor taste in the mouths of some, but let the record show, John Cena is not concerned.
The popular actor, who just made a return to the WWE Universe with a match at SummerSlam, was asked about Dave Bautista's comments during a recent interview with Esquire, and he said while he's bummed they won't be working together, he completely understands where he's coming from. You can check out a portion of his quote below…
That's an incredibly nice high road quote from John Cena. Whether Dave Bautista meant his original comments as a shot or not, a lot of actors would have been offended and fired back publicly. Cena was nothing but nice about this. So, good for him. In fact, he even further patted his former wrestling co-star on the back later in the interview with some nice words about his character. Here's a portion of his additional quote below…
Now, since John Cena has been so nice, let me defend both him and Dwayne Johnson a little bit. Bautista has put The Rock on blast before, even publicly saying he was not a great actor. Between that and his own tweet talking about all the different chances he's taken in his career, there seems to be an implication that he wants to distance himself from the other former WWE stars because he's more of an actor while they're trying to be movie stars. I understand the spirit of what he's trying to say, but this is misleading.
Both John Cena and The Rock have found tremendous success in Hollywood, but it didn't happen for either one overnight. Of course they each have charisma from their wrestling days, which they use, but it took work and a lot of movies to figure out how to really show that off on the big screen. Finding that voice and picking the right projects is a skill, as is actually executing them when you get the right material. It takes likeability, a lot of good timing and an ability to play off others. That is acting, and it's not easy. Those two wouldn't keep getting huge roles if fans didn't love watching them on screen, and they wouldn't keep working if they consistently picked roles they weren't good at executing.
Fortunately, Hollywood is more than big enough for all three former wrestlers to carve out their own spaces and do their own things, just as it has been for Andre The Giant, Hulk Hogan and others who came before. No doubt wrestling fans would love to see all of them in the same project at some point or another, but the worst thing for all of them would be to force a project that doesn't suit any of their talents just in the name of nostalgia. So, here's to hoping all three keep doing what's best for their own careers, whether that's fronting huge event films like The Rock, combining comedy and the threat of violence like Cena or trying a ton of different things like Bautista.
Enthusiastic about Clue, case-of-the-week mysteries, the NBA and cookies at Disney World. Less enthusiastic about the pricing structure of cable, loud noises and Tuesdays.
Your Daily Blend of Entertainment News
Thank you for signing up to CinemaBlend. You will receive a verification email shortly.
There was a problem. Please refresh the page and try again.