Madonna Posts A Teasy Topless Photo In Support Of Katy Perry's Naked Voting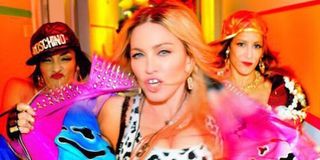 Madonna is showing her stars and stripes, and a lot more. The singer posted a topless photo of herself to her Instagram the day after Katy Perry humorously went nude in a Funny or Die voting PSA. Along with the picture, Madonna wrote a brief message urging her followers to vote for Hillary Clinton in the upcoming presidential election, and ended her caption with "Nude voting series #1," meaning that she could be posting more photos like this one soon.
The Instagram post is the latest in a number of photos and notes that Madonna has shared in regards to the presidential election. Following Donald Trump's negative comments about Rosie O'Donnell during his debate with Hillary Clinton on Monday night, Madonna posted a screenshot of herself and O'Donnell from their movie A League of Their Own and wrote "Mess with my girl Rosie and you're messing with me!"
Madonna's topless photo was inspired by Katy Perry's appearance in a voting video for Funny or Die on Tuesday. The video follows Perry as she rolls out of bed and heads to the polls in her pajamas, explaining that it's okay to vote in whatever you slept in. Perry then explains that she sleeps in the nude and disrobes, only to be quickly carted off by the police with fellow indecent exposure celeb Joel McHale.
Madonna and Katy Perry have worked together before. Last year, Perry appeared in Madonna's celebrity-filled "Bitch I'm Madonna" music video, and after that Madonna invited Perry on stage with her at a Los Angeles show of her Rebel Heart Tour, where they performed Madonna's song "Unapologetic Bitch" together.
Having just wrapped up her Rebel Heart Tour earlier this year, which followed the 2015 release of her latest album Rebel Heart, Madonna has not yet talked about a possible fourteenth studio album. Instead, the singer has dealt with a custody battle with Guy Ritchie over their son Rocco, got to meet President Barack Obama, and has focused on sharing her opinions on the election.
As evidence by her nude voting post, Madonna has been a vocal supporter of Hillary Clinton throughout the election process. In fact, just a couple hours before her selfie, Madonna posted a longer note to her Instagram account explaining why she is voting for Clinton: "I vote for equal rights for women and all minorities."
Your Daily Blend of Entertainment News
Your Daily Blend of Entertainment News
Thank you for signing up to CinemaBlend. You will receive a verification email shortly.
There was a problem. Please refresh the page and try again.