See Mariah Carey, Nick Cannon And Family All Dressed Up For Halloween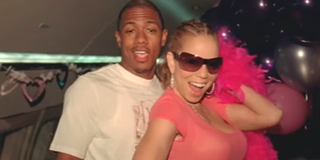 There's nothing scary about running into your ex if you're Mariah Carey or Nick Cannon --- even on the scariest holiday of the year! The famous exes have always been friendly, and captured an adorable family moment with their twin kids at Carey's Halloween party this Saturday night.
Nick Cannon decided to team up with five-year-old son Moroccan Cannon to bring the super-powered video game plumbers Mario and Luigi to life, with Moroccan taking the player 1 role by dressing in red to portray Mario. Cannon seemed more than happy to play sidekick by going in green as Luigi. Moroccan's twin sister Monroe had no interest in joining her brother and father in the Mushroom Kingdom, though --- she looked adorable as Rapunzel from the Disney movie Tangled. Momma Mariah Carey went a whole different direction altogether with her costume, as she showed off her evil side by slipping into a skintight red bodysuit and going as a devil, complete with horns.
Though Mariah Carey and Nick Cannon officially called it quits on their marriage a couple years back, it's still pretty common to see them out and about enjoying each other's and their children's company. The family also reunited at Carey's Halloween party last year, at which Carey dressed as a witch, Cannon as the Hulk, and Moroccan and Monroe went as Batman and Batgirl, respectively, PEOPLE reported. The foursome also spent Easter and Christmas together, so clearly both Carey and Cannon want to come together as a family unit especially during the holiday seasons.
Mariah Carey and Nick Cannon married back in 2008, after meeting on the set of her music video "Bye Bye" just two months earlier. Despite the hasty wedding, the marriage lasted for seven years, up until their divorce was finalized in 2015. Carey gave birth to the couple's twin children exactly three years into their marriage, on the date of their anniversary in 2011. The couple named daughter Monroe after Marilyn Monroe, and son Moroccan after the Moroccan-style room that Cannon proposed to Carey in.
Though they appeared happy, Nick Cannon revealed in late 2014 that he and Carey had been separated for a few months. Soon, people began weighing in on the split online, with many blaming Carey given her reputation for being high maintenance. Ever the gentleman, Cannon defended Carey throughout the divorce, never faltering in saying that he will always love her.
While Nick, Moroccan, and Monroe Cannon brought the wholesome family fun to Mariah Carey's annual Halloween bash, the R&B hitmaker was also joined by her fiancé James Packer, an Australian businessman that she revealed her engagement to at the beginning of the year, and her famous friend Tamar Braxton.
Your Daily Blend of Entertainment News
Thank you for signing up to CinemaBlend. You will receive a verification email shortly.
There was a problem. Please refresh the page and try again.