The Rock Is People's Sexiest Man Alive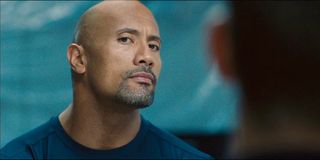 He may be known as The Rock, but Dwayne Johnson's big smile and and zest for life have more than broken down his tough exterior to reveal an enormous heart to match those muscles. It's that mix of brawn and sweetness that has turned Johnson into one of the most beloved, swoon-worthy movie stars today, and also earned him the title of 2016's "Sexiest Man Alive" from People on Tuesday.
People unveiled this year's honor on Tuesday morning by posting a photo of their upcoming cover featuring Dwayne Johnson smoldering at the camera while standing on the beachfront, with the words "Sweet, smart, and sculpted" emblazoned beneath him.
These days, it seems that the only thing bigger than Dwayne Johnson's muscles and heart is his box office appeal. Though he started out as a pro wrestler in the '90s, Johnson pivoted into acting with the new millennium and has only grown in star power since. Johnson quickly became a go-to star for blockbuster action movies, including the never-ending Fast & Furious franchise, and proved himself to be a comedic force to be reckoned with as well in films like The Other Guys and Central Intelligence.
Now, Dwayne Johnson has the winds of Hollywood at his back more than ever. Forbes just named him the highest paid actor of the year a few months back, and he's starring in sure-to-be-smash remakes Jumanji and Baywatch, along with bringing beloved comic book characters to life in the announced Doc Savage and Shazam! movies and continuing his success with upcoming Fast & Furious and Journey to the Center of the Earth sequels. Not to mention that he just broke into the Disney animated universe with his new film Moana.
But even with that immense success, the Sexiest Man Alive title did come as a bit of a surprise to Dwayne Johnson. Ellen DeGeneres revealed the new cover to him for the first time on her talk show Tuesday, and he was clearly very flattered. Check out the clip of Johnson finding out his new title below.
Though Dwayne Johnson follows in a long line of sexy men to hold People's annual title, the fact that he holds the title this year is a pretty major move. This year marks the first time in 20 years and only the second time ever that a person of color is the Sexiest Man Alive; the only other non-white man to appear on the cover of the issue was Denzel Washington in 1996. In recent years, the title has gone to David Beckham (2015), Chris Hemsworth (2014), and Adam Levine (2013).
For Dwayne Johnson, the new title is nice but he says it won't change his day-to-day life. The actor posted the cover on his Twitter, and said that he isn't exactly resting on his throne. He still has to take care of his two daughters Simone and Jasmine each day and wakes up early in the morning to get a workout in. Sexiness takes work, people!
Your Daily Blend of Entertainment News