Why Carrie Fisher Was Finally OK Revealing Her Harrison Ford Affair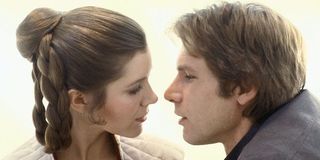 (Image credit: Star Wars: The Empire Strikes back)
Yes, that out-of-this-world chemistry between Princess Leia and Han Solo was actually real! After recently revealing that she and Harrison Ford had a brief affair while filming the original Star Wars in the mid-1970s, Carrie Fisher is now defending that decision even though she hasn't heard back from Ford about it.
Carrie Fisher talks about the three-month affair with Harrison Ford in her new book The Princess Diarist, and though the revelation implicates Ford --- who was married with two children at the time --- Fisher is standing by her choice to talk about it. She tells People that after keeping the fling quiet for a full forty years, she feels entitled to finally open up about it now.
It sounds like she felt enough time had passed...
The 1976 romance that Carrie Fisher describes with her costar means that Harrison Ford was a married 33-year-old father of two while he was involved for a few months with 19-year-old Fisher. Though Ford and his first wife Mary Marquardt wound up divorcing a few years later in 1979 and the actor is now happily married to Calista Flockhart, news of the affair could still potentially anger Ford --- nobody wants to be labeled as a cheater. Fisher says that she sent Ford a draft of her book before releasing it, but he never responded to her.
After their brief affair in 1976, Carrie Fisher went on to date singer Paul Simon throughout the late '70s and early '80s, and went on to marry him in the mid-'80s. In 1991, she began a relationship with talent agent Bryan Lourd with whom she gave birth to her daughter Billie Lourd, currently starring on the TV show Scream Queens. A few years later, Lourd came out as bisexual and left Fisher for a man.
Carrie Fisher and Harrison Ford both recently reunited to reprise their iconic Star Wars characters for last year's Star Wars: The Force Awakens, but (spoiler alert!) that may turn out to be their last film together. Though Fisher has signed on to reappear in the next Star Wars sequel, the grim fate of Harrison Ford's Han Solo in The Force Awakens most likely means that the actor won't return to future films in the franchise.
The Princess Diarist is Carrie Fisher's third autobiography, following 2008's Wishful Drinking and 2011's Shockaholic. In addition, Fisher has also authored five novels, three screenplays, and two plays (one of which was a stage adaptation of Wishful Drinking). Clearly, even after two memoirs, Carrie Fisher still has her fair share of bombshells to drop on us!
Your Daily Blend of Entertainment News