Kanye West Hospitalized After Cancelling Tour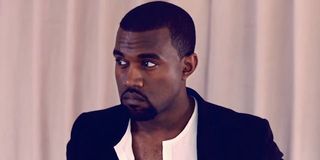 (Image credit: Kanye West "Runaway" video)
It's been an incredibly rough couple of months of the Kardashian-Wests. Just over a month and a half since Kim Kardashian was robbed at gunpoint in Paris, it's been reported than Kanye West has been hospitalized on a psychiatric hold following the cancellation of the final leg of his Saint Pablo tour.
Kanye West's personal physician called the police on Monday night to have his patient placed on a 5150 psychiatric hold after he allegedly tried to attack a member of his staff while at the gym, TMZ reports. The physician, Dr. Michael Farzam, told law enforcement that West was suffering from temporary psychosis due to sleep deprivation and dehydration.
The hospitalization comes a day after Kanye West cancelled the remaining tour dates on his Saint Pablo tour following a particularly long rant and early exit during his concert in Sacramento on Saturday. Though West has been known to go off on long rants at his shows, this weekend's concert included one of his longest diatribes yet, lasting around thirty minutes and covering topics such as his eclipsed friendship with Jay-Z and Beyonce and his controversial perspective of the current political climate. He disappointed the audience by cutting the concert short and leaving the venue after performing only three songs, and his team later reported that the remaining twenty stops on his tour would be cancelled, citing West's exhaustion.
Kanye West's hospitalization is also putting a halt on his wife Kim Kardashian's long-awaited return to the public. Since her robbery in early October, Kardashian has remained uncharacteristically absent from public events and social media, but was planning on returning to the red carpet on Monday to attend the Angel Ball in New York, which was honoring her late father Robert Kardashian. However, after she got news of her husband's hospitalization, Kardashian opted out of the event and instead flew to be with West on the west coast, PEOPLE reports.
And Kim Kardashian isn't the only celebrity who is giving Kanye West support. Following the news of his psychiatric hold, a number of celebrities posted their support for West on social media, including Janelle Monae, Theophilus London, Rose McGowan, Emile Hirsch, and Marlon Wayans. West's protégé and a hit-making artist in his own right, Chance the Rapper sent up a prayer for his "big brother" Kanye West during his BBC Live Lounge performance on Tuesday.
According to the reports, Kanye West is currently being held at the UCLA Medical Center. A source told PEOPLE that West feels he is "under spiritual attack" right now due to a number of depressing forces coming together. The source goes on to say that he is in a reflective place not only due to his wife's recent robbery, but also because of the time of year. Apparently, West grieves every November since it was the month that his mother, Donda West, died during back in 2007.
Mental illness is not a joking matter. Our best wishes for a healthy recovery are with Kanye West.
Your Daily Blend of Entertainment News
Thank you for signing up to CinemaBlend. You will receive a verification email shortly.
There was a problem. Please refresh the page and try again.