One Walking Dead Star's Blunt Response To Body Shamers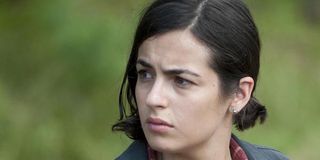 (Image credit: The Walking Dead)
Alanna Masterson isn't just killing zombies now --- she's also coming after trolls. The Walking Dead actress clapped back at Internet commenters who made rude remarks about her weight in recent episodes of the AMC hit series.
After noticing some viewers of her show making derogatory remarks about her weight gain online, Alanna Masterson fired back with a lengthy, impassioned Instagram post telling the body shamers to "grow the fuck up" and realize that she's put on weight recently because she gave birth and was still breastfeeding during production. Masterson gave birth to her daughter Marlowe Stowell at the end of last year. Check out Masterson's powerful response to the rude commenters below.
Alanna Masterson plays the former cop-in-training Tara Chambler on The Walking Dead, a role that was introduced in the show's fourth season and quickly grew to become a fan favorite. Tara became a series regular the following season, and has become an even larger part of the series in its currently airing seventh season. While Tara is Masterson's breakout role, she actually comes from a pretty well-known family of TV actors. Her half brothers Christopher and Danny Masterson both starred in beloved teen sitcoms --- Malcolm in the Middle and That '70s Show, respectively --- and the siblings are also notable for their outspoken involvement in the controversial religion Scientology.
Clearly, Alanna Masterson has no trouble at all standing up for herself and putting her haters back in their place. I think in the middle of a zombie apocalypse, there are a lot more pressing matters to worry about than a gaining a couple pounds...
Your Daily Blend of Entertainment News