Charlie Sheen Blames Those Bizarre Interviews On Accidental Roid Rage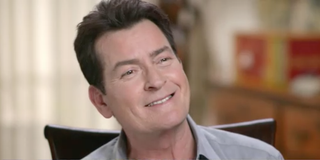 Back in 2011, Charlie Sheen made a lasting imprint on pop culture when he referred to himself as a warlock and coined strange terms like "tiger blood" and "Adonis DNA" in a series of bizarre interviews. Now Sheen is finally opening up about what was really behind his public meltdown.
In a new interview with Good Morning America, Charlie Sheen revealed that at the time of his public meltdown almost six years ago, he was overusing a testosterone cream that caused an irrational anger similar to roid rage in him. Sheen revealed last year that it was around this time that he had been diagnosed as HIV-positive, so he was using the testosterone to increase his libido.
That time was a particularly dark period in Charlie Sheen's life. Along with being diagnosed with HIV, Sheen had just been fired from his long-running sitcom gig Two and a Half Men, and his then-wife Brooke Mueller had recently divorced him and taken custody of their children after obtaining a restraining order against him. All of these factors must have come together to create the perfect storm of Sheen's 2011 breakdown.
In the Good Morning America interview, Charlie Sheen also said that he is now using an experimental new drug in attempts to combat his HIV, and feels confident that he will still be around for years to come. Sheen sounds calm and self-assured now, which is a complete transformation from when he first learned of his diagnosis in 2011. The actor admitted that he even contemplated suicide when he first out he was HIV-positive, but thankfully didn't go through with it for the sake of his mother.
From the looks of things, Charlie Sheen is in a much more stable place nowadays than he was back then --- don't expect him to brag about having "Adonis DNA" or that he's a rock star from Mars anytime soon.
Your Daily Blend of Entertainment News