Charlie Sheen To Bring His Tiger Blood To Scary Movie 5?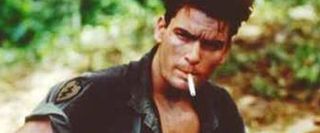 Obviously Charlie Sheen has become the latest in a long line of tabloid pariahs who somehow has managed to turn the country's incessant mockery of him into sheer morbid curiosity.What will this self-proclaimed warlock will do with his life? He managed to get himself fired from his long-running sit-com Two and a Half Men, and Comedy Central took advantage of his situation by roasting him, but Sheen isn't down for the count just yet.
ThinkMcFlyThink has it that Sheen has found himself on the cast list for Scary Movie 5, returning for a third time to the inexplicably popular spoof franchise. Harvey Weinstein reportedly offered Sheen a role in the film back in March, again taking advantage of the struggling actor's infamy. The site says that the Major League actor only just now decided that he'd take the role, but doesn't say if he's just looking for an income stream (likely), or if he actually feels like he might better that movie.
It's doubtful that adding what will no doubt be thousands of "Winning!", "Tiger blood!", and "Adonis DNA" jokes will make this fifth installment in the Scary Movie franchise tolerable, but they're going to give it their all anyway. Last month Anthony Anderson reportedly joined the cast along with Regina Hall and Kevin Hart, filling in the cast of a movie no one seems to know how to approach. At one point, 5 was just going to be a reboot, which makes no sense whatsoever. Maybe they'll just take the Final Destination approach and call it THE Scary Movie. Who knows, and frankly who cares.
Charlie Sheen's weird meltdown will fade from people's memory fast enough and he'll only be able to hang onto this fleeting fame for so long. If this movie happens, and it's still a big "if," it'll be interesting to see what Sheen manages to pull out of this little ordeal.
Your Daily Blend of Entertainment News