Madonna Announces Big Adoption News With An Adorable Photo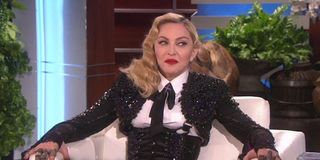 It sounds like Madonna's family is growing by two! The superstar has adopted twin girls from the African country of Malawi this week. I guess Beyonce isn't going to be the only one with two more little children to take care of this year.
Madonna herself took to Instagram to confirm the adoption of her two new daughters Esther and Stella on Wednesday afternoon, writing that she is "overjoyed" to have them in her family and sharing her gratitude to the country of Malawi.
The High Court of Malawi approved Madonna's adoption of twin four-year-old girls on Tuesday, Malawi's judiciary spokesperson Mlenga Mvula confirmed to PEOPLE. The site also states that Madonna was joined by her father, her brother, and her other four children at the adoption proceeding.
Her two new daughters, named Stella and Esther, are the third and fourth children that Madonna has adopted from Malawi. She adopted her son David Banda from the country in 2006, and her daughter Mercy James in 2009, both of whom are 11 years old. Along with Madonna's two biological children --- Lourdes Leon, 20, and Rocco Ritchie, 16 --- the global superstar is now mommy to six kids.
Stella and Esther's mother died a week after she gave birth to the twins, and since their grandmother couldn't provide for them, they were taken to an orphanage, Mlenga Mvula explained. Mvula went on to describe the happiness he saw in Madonna after her adoption of the twins was confirmed.
Awww, it sounds like those kids are definitely going to a loving home.
Although Madonna did initially deny the news that she was adopting more children while in Malawi last week, it appears as though she's had her eyes on little Stella and Esther for quite some time. Back in July of 2016, she posted a photo of her daughter Lourdes holding Stella and Esther when they were still in the Malawi orphanage.
Madonna has a very involved history with the country of Malawi. Not only has she now adopted four children from the African nation, but she also founded the Raising Malawi charity in 2006 to combat the extreme poverty in the country through health and education initiatives. Mlenga Mvula said that it was Madonna's decade of philanthropic work with the country that largely helped her adoption of Stella and Esther get approved.
Your Daily Blend of Entertainment News
Thank you for signing up to CinemaBlend. You will receive a verification email shortly.
There was a problem. Please refresh the page and try again.