Harrison Ford Was Almost Involved In Another Plane Crash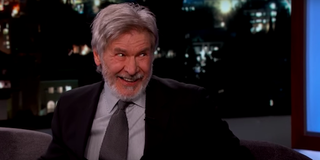 (Image credit: Jimmy Kimmel Live)
Han Solo may be an exceptional aircraft pilot, but Harrison Ford may be another story. The actor accidentally almost hit a commercial airplane with his own aircraft on Monday. Thankfully, nobody was hurt in the accident.
It sounds like Harrison Ford may have mixed up some landing instructions while flying his single engine Husky airplane on Monday and wound up almost causing a serious accident, and now he might be facing some serious repercussions, NBC News reported. Flight controllers at Orange County California's John Wayne Airport had informed Ford to land on a specific runway at the airport, but Ford mistakenly aimed for the taxiway instead --- that's the area near the terminals where commercial airplanes are either preparing to take off or deboard. Because of this mistake, Ford's aircraft flew just over an American Airlines plane with 116 people on board.
Thankfully, Harrison Ford's plane narrowly avoided making contact with the commercial flight, which safely departed for its flight to Dallas moments later, but that isn't going to save the actor from the Federal Aviation Administration's (FAA) investigation and potential punishment. The FAA is reporting that not only did the flight controllers give Ford clear instructions to land on the runway, but Ford even repeated them back correctly. And since landing an aircraft on an airport taxiway against instruction is in violation of the FAA's safety rules, the organization is now opening up an investigation against Ford, which could possibly result in the suspension of his aviation license. Sounds like the Millennium Falcon could be staying on the ground from now on...
Though Harrison Ford has a been praised for his aviation skills by many in the field and has over 50 years of experience in piloting planes and helicopters, this recent accident isn't his first flight faux pas. Back in 1999, Ford crashed a helicopter he was piloting while on a training flight with an instructor. Though neither Ford nor the instructor were hurt in the crash, the helicopter he was piloting wound up destroyed. And more recently in 2015, Ford was forced to make an emergency crash landing in the middle of a golf course in Venice, California after reporting that his plane's engine had failed. Although Ford suffered a broken pelvis and ankle in the crash, he was praised for redirecting the crash landing into the golf course at the last minute, as he was headed for a row of suburban homes.
Despite these crashes, Harrison Ford has been revered as an excellent pilot by a number of aviation organizations throughout the years. Throughout the mid-2000s, Ford served as chairman of the Young Eagles program of the Experimental Aircraft Association (EAA), flying nearly 300 children in his aircrafts. He was inducted into the Living Legends of Aviation in 2008, and subsequently had a special award in the association named after him.
Reportedly, the FAA deciding to suspend Harrison Ford's license after this taxiway mix-up is the worst it could go --- it's also possible that they let him off with just a warning or a fine, which seems like what what will probably wind up happening given Ford's celebrity and the fact that nobody was actually harmed. So it looks like Harrison Ford will fly another day, although maybe not... we'll have to wait to see for sure.
Your Daily Blend of Entertainment News
Thank you for signing up to CinemaBlend. You will receive a verification email shortly.
There was a problem. Please refresh the page and try again.