How Chris Kattan Broke His Neck, According To The Former SNL Star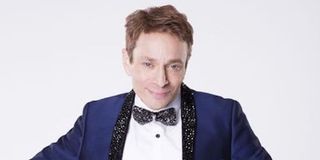 On the Monday, March 27 episode of Dancing with the Stars, the judges eliminated former Saturday Night Live comedian Chris Kattan. The elimination of Kattan happened only a couple of episodes into the season. However, the fact that the funny man was able to be on the show at all was pretty remarkable. Kattan is in a state of ongoing recovery from a traumatic neck injury that occurred from a "stunt thing," as Kattan puts it, two decades ago. Here is what Kattan told reporters after taking his final bow:
According to People, the 46-year-old actor refused to discuss the rest of the details related to what happened during that "stunt thing." However, Kattan did say that ABC had asked him to join Dancing with the Stars more than once in the past, and he had been forced to turn down those opportunities because of the extent of his injuries.
Early on, Chris Kattan and his Dancing with the Stars partner, Witney Carson, danced to "What Is Love" by Haddaway, a nod to A Night at the Roxbury, Kattan's 1998 comedy with Will Ferrell based on their hilarious Saturday Night Live sketch. The dance still required some head and neck mobility, but Kattan toned down the signature head bobbing of the Roxbury characters. Ultimately, Kattan and Carson's dance led to a score of 17 out of 40, and one of the judges told Kattan not to be so stiff. Naturally, Kattan took some offense to that remark. We can only imagine how hard it must have been to dance while feeling the ongoing effects of a traumatic neck injury like his.
On the show, Chris Kattan assured his dance partner that he would be all right despite his injury. Witney Carson did still express some trepidation about working with Kattan because of his injury, but she also wanted to push him to do his best. Carson saw a lot of trial and error in the first couple of weeks of rehearsal for the show, but she described Kattan as fearless.
We are glad Chris Kattan decided to reveal his injury. In recent years, the news surrounding Kattan has been that he has had trouble bouncing back into a comedy career. Kattan had a streak of bad luck in his life a few years ago, but now, by making this huge personal revelation, he is helping us click the pieces into place. No wonder he struggled. Sustaining a neck injury like Chris Kattan's must be heartbreaking and terrifying, so taking a turn at a televised dance competition goes to show how much determination the actor has.
Your Daily Blend of Entertainment News
Your Daily Blend of Entertainment News
Thank you for signing up to CinemaBlend. You will receive a verification email shortly.
There was a problem. Please refresh the page and try again.