Why Blake Lively Is Just The Best, According To Ryan Reynolds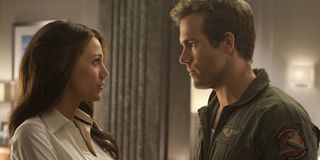 Ryan Reynolds sure knows how to praise his wife, actress Blake Lively. Reynolds delivered some beautiful words about the mother of his two children at the Metropolitan Museum of Art where the power couple coordinated their outfits for the 2017 Met Gala. What the Life and Deadpool actor said about his movie star wife is super romantic, and it makes her sound like a tenderhearted person with a great head on her shoulders. Check out the photo with its touching caption...
Wow, what a romantic and warm way to speak about your spouse. Brandon Stanton, the creator of the photoblog Humans of New York (HONY), captured the photo of the married couple at the 2017 Met Gala on Monday, May 1. Stanton added the photo with Reynolds's candid words to the HONY Instagram, which features other brief interviews alongside pictures of people from various backgrounds.
Ryan Reynolds previously opened up about his strained bond with his late father. The Canadian actor once said their relationship was nothing like the father-son relationships he grew up seeing on television. So, it was brave of Ryan Reynolds to bring up the fact he had a fractured relationship with his dad. However, what seems more compelling is the fact he feels Blake Lively helped him access a space of compassion to grapple with resentments he held toward his father in time to repair the relationship as he was dying. From the sounds of it, the former Gossip Girl star is teaching her children--son James Reynolds and daughter Ines Reynolds--to be compassionate people like her, too.
We love it when a married celebrity shares loving words about his or her spouse, but with this couple, the romance is palpable, and the adoration seems to go both ways. For example, when Ryan Reynolds earned a star on the Hollywood Walk of Fame, Blake Lively was right there to express her heartfelt support of her adoring husband. Then Reynolds got vocal about Lively, calling her, "the best thing that has ever happened" to him. He even indicated Lively helped him become the father he always hoped he could be.
Of course, Ryan Reynolds's words were not the only beautiful part of the HONY image. The attractive pair looked fantastic for the event. Blake Lively always sets the red carpet on fire with her Met Gala apparel, and this year she wore $3.5 million worth of jewelry to accessorize her Versace gown. The pair is so in love that they coordinated their support for Versace with Reynolds dressed in a tuxedo by the luxury fashion brand. Then Reynolds topped off the look with a blue bowtie to coordinate with the same hint of blue in Lively's chic jewelry.
Honestly, these two Hollywood lovebirds are a breath of fresh air.
Your Daily Blend of Entertainment News
Thank you for signing up to CinemaBlend. You will receive a verification email shortly.
There was a problem. Please refresh the page and try again.