Tiger Woods Was Arrested On A DUI Charge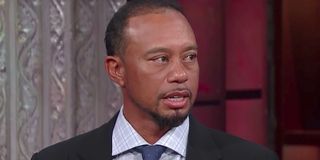 Tiger Woods is in the headlines again but not for positive news stories fans had hoped to hear about this year. The police reportedly arrested the 41-year-old professional golf legend on suspicion of driving under the influence (DUI) on Monday, May 29. The arrest occurred in Jupiter, Florida, in the early morning. This news is disappointing for Tiger Woods' fans. Many had anticipated the golf star to make a career comeback sometime soon. Now it seems those plans may be on hold a while longer.
Reportedly, the specifics of the police record regarding Tiger Woods' arrest say the golf professional had an illegal blood alcohol level for driving. Nevertheless, Woods was free to leave jail a few hours after the officers booked him, so says CNN. There was no bail, and Woods left of his "own recognizance," which means he signed papers to say he would cooperate with future court proceedings.
Tiger Woods has not won a tournament since 2013. Lately he has been out of commission due to back problems. He made a brief comeback in December of 2016, but he had to stop again when recurring back problems resurfaced.
Earlier this year, Tiger Woods underwent a back surgery that his doctors called a success. Then on May 24, Woods blogged about his hopes for making a comeback. He indicated the outlook for a return seemed bright, and although Woods expressed how sure he felt in his desire to play golf again, he said he was not in a rush to get going until his recovery is complete. Furthermore, Woods explained he is still unable to bend or twist due to his back.
So now the outlook for Tiger Woods' comeback might not be so bright after all. Unfortunately, the news about the DUI charge aligns more with troubling headlines from several years ago. For example, in 2009, police arrested Woods for reckless driving after he drove his car into a tree while under the influence of the sleep aid Ambien. He was not charged with a DUI back then, but the incident did launch speculation about problems in his marriage to Elin Nordegren. Reportedly Woods and Nordegren, his wife at the time, had been arguing before the crash.
Around that time, reports surfaced Tiger Woods had been having an extramarital affair. Woods made a public apology for the affair and admitted he had sought therapy. Nevertheless, Woods lost many sponsors, and soon he and Elin Nordegren were divorced. It took Woods a long time to win back some of the public adoration he lost during that era.
Neither Tiger Woods nor the Professional Golfers Association (PGA) have commented on the story as of yet. Hopefully Woods can find the support he needs to get back on the right track.
Your Daily Blend of Entertainment News