Ronda Rousey And Travis Browne Had The Best Response To Getting Robbed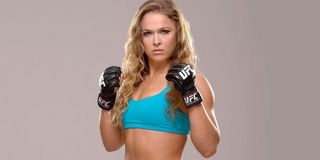 Ronda Rousey and Travis Browne have become the latest celebrities to have their home burglarized. Apparently, the 30-year-old former Ultimate Fighter Championship (UFC) fighter and her UFC fighter fiancé stopped by her house after time away, and they discovered that people had been squatting in the house and then stole a bunch of valuables. The mixed martial artists reviewed the footage from the security cameras and saw the culprits. Rousey said the bandits were some kids who had skateboards with them, and because there is a skate park near where Rousey and Browne live, they knew where to look. Browne charged over there and found the suspects!
Travis Browne did not rip the suspects to shreds. Instead, he called the cops. But can you imagine the looks on the burglars' faces when they saw him coming? During a recent appearance on Live! With Kelly and Ryan, Ronda Rousey shared the details of the burglary with Kelly Ripa and Jerry O'Connell, who was there to fill in for Ryan Seacrest. As a former UFC women's Bantamweight champion, successful judoka, and Hollywood actress, Rousey might seem like a perfect target for burglars who simply see success as dollar signs. Sadly, these burglars made off with a ton of her things. She explained,
But then again, it's Ronda Rousey's house! Jerry O'Connell said what everyone was thinking when he joked that the burglars must not have done any research at all because breaking into the home of a world-class fighting champion sounds like the worst thing to do.
Ronda Rousey and Travis Browne discovered the burglary just before heading to the airport to fly to New Zealand for vacation. In fact, they were going to make a stop at Rousey's mom's house so Browne could ask Rousey' mom for permission to propose. However, the plans changed when Rousey and Browne made a pit stop at home and found the burglary. Luckily, Browne did not let the burglary spoil everything. They still went on their vacation, and Browne proposed to Rousey under a waterfall on the trip. (It's a good thing he had the engagement ring with him!)
Since Ronda Rousey told her story, reports have surfaced that police arrested a 21-year-old woman named Zhamila Bolat and a 20-year-old man named Alim Young in connection with the robbery at Rousey and Travis Browne's house. However, the officials have not yet charged Bolat and Young with anything.
There is no doubt the burglars picked the wrong people to mess with, and Ronda Rousey joked that five minutes alone with her sounded like an excellent way to discipline the criminal but the court might deem it a cruel and unusual punishment. But potential criminals should consider that as a warning and think twice before stepping foot in her home.