Someone Broke Into Kendall Jenner's House And Stole Jewelry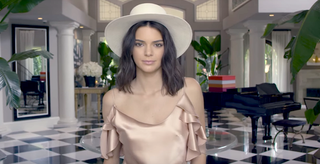 The Keeping Up with the Kardashians group has yet another frightening security problem on its hands. TMZ reported the news that the second-youngest of the siblings, supermodel Kendall Jenner, called police on Thursday in the wee hours of the morning to report the burglary of around $200,000-worth of jewelry from her home.
But don't blame it on the Bling Ring. TMZ explained that there were no signs of forced entry, and updates about the incident gave a clearer indication of what possibly went down.
A law-enforcement source said that Kendall Jenner had a party on Wednesday night. At some point in the evening, Jenner heard an alarm sound off to warn her of a door opening somewhere in the house. However, Jenner thought nothing of it because her friends were all there. She left her home for a brief moment around midnight, perhaps giving the thieves time to access her private quarters. When Jenner returned an hour later, she discovered that someone had opened her jewelry box and taken highly valuable items. Jenner then called police at 1:15 a.m. to report the crime.
According to TMZ, Kendall Jenner allowed a CSI forensic investigator (not named Marg Helgenberger) to sweep the house for fingerprints. Although the detective seemed confident, the data could be inconclusive, as there were many people in the house throughout the night. Now the police assume the culprit to be one of the friends Jenner invited into the home.
Below is a photo Jenner shared last year of some of her glamorous jewelry.
Of course, this robbery occurs mere months after Kim Kardashian's harrowing robbery at gunpoint in Paris. On this season of her reality show, Kardashian opened up about the terrifying experience, which led to the arrest of 17 suspects. That particular event stopped the celebrity news cycle---not to mention the family---in its tracks and shined a light on the heightened need for security today.
In fact, it has been less than a year since TMZ said Kendall Jenner herself had an alleged stalker following her. With more than 70 million followers on Instagram, Jenner is one of the most recognizable twenty-one-year-olds in the world. Last year, Jenner spoke with Ellen DeGeneres about why she decided to leave social media for a while, but these days she is back online and posting about her fabulous life (and the amazing clothes and accessories in it).
It is important for celebrities to run a tight ship these days. Online hackers are targeting everyone from Emma Watson to Jennifer Lawrence and Kirsten Dunst. Offline, things are even scarier, as Naomi Campbell outlined in the wake of the Kim Kardashian robbery. Kendall Jenner grew up in the spotlight. Now she is in all of the big fashion week runway shows and print ads, and her social media presence is incomparable. It seems like a good idea for her to choose friends wisely. Be safe, girl!
Your Daily Blend of Entertainment News
Your Daily Blend of Entertainment News
Thank you for signing up to CinemaBlend. You will receive a verification email shortly.
There was a problem. Please refresh the page and try again.