Justin Bieber's Holiday Car Makeover Is Too Outrageous Not To Share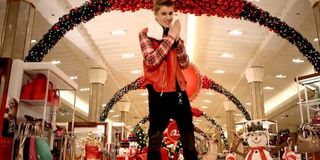 Justin Bieber recently "drove home" the fact that he was in the holiday spirit. The "Sorry" singer unveiled his newly tricked-out Mercedes-Benz G-Class in photos and videos on social media over the weekend, and the result was incredible. The side view of the car showed off the words "Merry Christmas" next to graphics of polar bears, a penguin, and Santa Claus. Take a look:
Then, on the front, Justin Bieber even decked out his car with a big red bow on the hood:
Clearly, Justin Bieber loves Christmas. In fact, when he presented the car in an Instagram stories video, he joked that people had told him he was not in the Christmas spirit enough. Bieber then indicated he had gone out and given his car a makeover to match his festive feelings:
Regardless, Justin Bieber probably was kidding. After all, he has been pretty open about his Christmas excitement in recent days. Not long ago, Bieber uploaded an Instagram video of himself shirtless while decorating a Christmas tree. He set the time-lapse video to "Jingle Bell Rock" and had fun adding ornaments in classic holiday colors. In the end, he leaped toward the camera and gave fans a glimpse of his new tattoos on his stomach and chest.
It is great to see Justin Bieber happy for the holidays because the pop singer has had highs and lows this year. In the spring, Bieber faced a backlash from fans who criticized him for quitting his world tour weeks short of the intended end date. However, Bieber later explained he stopped to focus on his well-being, so the criticism seemed to quiet down while many fans came out in support of his decision. Then he proceeded to make some heartening moves in his life. For example, Bieber visited a children's hospital and met with patients. He started regularly attending church in Los Angeles. Bieber even made amends with Selena Gomez and began spending time with her.
Justin Bieber did encounter negative moments. He drove over a photographer while trying to leave church, and he made headlines when hackers took control of Selena Gomez's Instagram and posted nude photos of him. But on the whole, 2017 has been great for Bieber, who had success with hit songs like the "Despacito" remix with Luis Fonsi and Daddy Yankee and DJ Khaled's "I'm the One" with Lil Wayne, Quavo, and Chance The Rapper. It's no wonder Bieber feels it 'tis the season to be jolly. He is on top of the world professionally and getting his life right personally. Hopefully, Bieber can drive the merry feelings into 2018 after a holly, jolly holiday.
Your Daily Blend of Entertainment News
Your Daily Blend of Entertainment News
Thank you for signing up to CinemaBlend. You will receive a verification email shortly.
There was a problem. Please refresh the page and try again.