Paul Walker's Brother Now Plans To Follow In His Sibling's Footsteps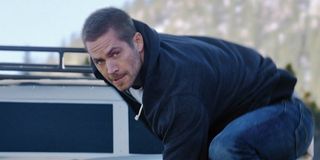 After the tragic death of Paul Walker, his brothers, Caleb and Cody, were enlisted to help film the actor's remaining scenes in Fast and Furious 7. Now, as the next installment of the blockbuster franchise revs into theaters this weekend, news has come that Cody plans on following his late brother's footsteps down the road to Hollywood stardom.
The Hollywood Reporter's sources state that Cody, Paul's 26-year-old younger brother, has plans to expand his acting career after his debut in Fast and Furious 7. He has been working with Matt Luber, Paul's manager, and has been in talks with Hollywood talent agencies. Other than his contributions to the film, he has no real acting experience, though he plans to pursue both movie and television roles.
Paul died on November 30, 2013, in a car crash, and production on the seventh installment of his beloved franchise was put on temporary hold. Director James Wan and Universal had meetings to discuss how best to proceed with the film. Paul had filmed the majority of his scenes, though there was still work to be done. Ultimately, Furious 7 was pushed from its 2014 release date into 2015, and Caleb and Cody stepped in for their brother. Peter Jackson's WETA Workshop used CGI technology to finish the transformation.
With Furious 7 paying tribute to Paul, might there be a place for Cody in any potential future films? As THR notes, the answer to that is unclear. Vin Diesel, a man who's all about family on and off the screen, has already accepted Paul's siblings into the fold, so we wouldn't be too surprised if we saw Cody in a sequel.
In addition to Paul, Caleb and Cody, Fast and Furious 7 saw the return of Diesel, Dwayne "The Rock" Johnson, Michelle Rodriguez, Ludacris, Tyrese and Jordana Brewster, as they face the ghosts of their past. Jason Statham portrayed Owen Shaw's (Luke Evans) brother Deckard, seeking vengeance on Dom and his crew for maiming his sibling. What ensued was a race around the world in an attempt to track him down and thwart his plans, leading to a big showdown. Game of Thrones star Nathalie Emmanuel is one of the new cast members, playing a hacker known as Ramsey. In addition, MMA fighter Ronda Rousey showed up for a brutal fist fight with Rodriguez, which is comparable to the throw down between Letty and Gina Corano's Riley in Fast and Furious 6.
Having done work in something as widely watched as Furious 7, Cody is poised to launch his career. We'll be keeping an eye out to see where he ends up next.
Your Daily Blend of Entertainment News